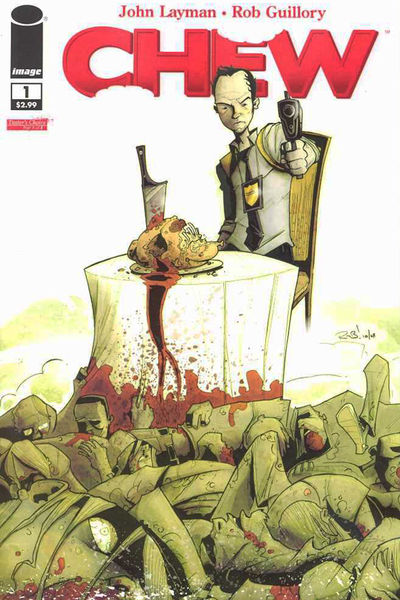 Tony Chu is one hell of a detective. As long as he doesn't mind nibbling on a corpse or two…
You see, Tony's Cibopathic, which means he gets psychic impressions from whatever he eats. He knows things about the food he eats that no one should know.
He knows what pesticides were used on that apple he ate this morning. He also knows which tree it was picked from, what pesticides were used on the crop, and when it was harvested.
That's the premise behind CHEW, the new comic book series by John Layman (Marvel Zombies vs. The Army of Darkness, House of M: Fantastic Four, Xena, Puffed) and Rob Guillory.
It's a dirty job, and Tony has to eat terrible things in the name of justice. We had the chance to chat with Layman and Guillory about the FDA ban on poultry, cops, cooks, cannibals, and clairvoyants. Here's how it went down:
TFAW.com: The idea of a cop that eats murder victims to solve crimes is really intriguing, where were you and what were you doing/eating when inspiration hit you?
John Layman: You know, I have no idea what the genesis for this book was. I know it was an idea I'd had for a very long time, one that I'd been talking about for years.
I think I had to step away from comics for a while to make this happen. I'd been doing a lot of licensed work-for-hire stuff, and not a lot of it was really satisfying, beyond it paying bills. I took a full-time job in video games, writing the Champions Online MMO video game.
I knew I didn't want to leave comics, but being able to step away showed me how unsatisfying doing non-creator-owned work was. And I knew when I came back, it had to be with something really close to my heart. So I took this idea I'd been thinking about for a very long time, and start, polishing, polishing, polishing it, until it became CHEW.
TFAW.com: It sounds like we meet Tony Chu well after he found out that he's got this ability. Was it hard deciding where to start and which questions to leave unanswered?
JL: The first issue tells the story about how Tony leaves the police force and joins the FDA, which, after the bird flu hits and the government institutes a Poultry Prohibition, is the most powerful law enforcement agency on the planet. It seems like a good starting point. If this was a sports story, it would be the equivalent of the protagonist leaving a Triple-A team to join the Big Leagues.
TFAW.com: Poultry's been outlawed?
JL: This was originally a reaction to life in a post 9/11 world. If the bombing of a building by terrorists could have such far-reaching societal impact, I wondered what would happen if the Bird Flu we periodically hear about in the news would happen, and how governments would react–and perhaps overreact.
Oddly, as I write this, the world is gripped with worry over a swine flu. Today I read that Egypt is slaughtering 35,000 pigs in hopes to stem the spread of this virus . . . and suddenly the high-concept of a post-bird flu Poultry Prohibition seems considerably less ridiculous or unbelievable.
TFAW.com: I know it's early, but has the original idea or art changed very much since you've moved on from the concept stage?
JL: It's grown more than changed. I have a big storyline planned, and a definite ending that's anywhere from 25 to 50 issues away. CHEW is intended to be an ongoing with a finite ending, like a Transmet or a Preacher. As I've gotten to know the characters and fleshed out the universe, I've figured out what the overall story is about, and how it's going to end. That is, what was once just a high concept ("cannibal cop") has evolved into a deep and rich tapestry of story.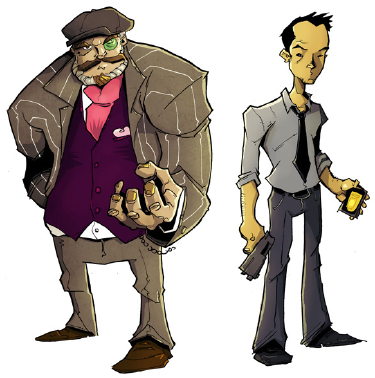 RG: On the art side of things, I experimented a bit with a couple of different looks early on, but settled on what comes best for me. It's just a really quirky, nuanced animated look with a bit of an edge, I guess.
TFAW.com: What's up with the big guy on the second cover? He looks pretty badass. Is he also a Cibopath?
JL: He is indeed. That is Mason Savoy, one of, if not THE, series' absolute scene-stealer. When Tony Chu joins the FDA, Mason is both a partner and mentor. Savoy is a little more accepting of his abilities than Tony, and a lot of the first story arc is about Savoy trying to get Tony to be, if not accepting, at least less resistant to the idea of using his powers.
Rob Guillory: Savoy's a personal fave of mine. Just a really imposing, kinda scary guy with a really prissy disposition.
TFAW.com: Who are some of the other characters we'll meet along the way?
JL: Most of the supporting cast will be introduced during the first story arc, issues #1-5, "Taster's Choice," with the exception of a mysterious third Cibopath who will be introduced in the second arc. My personal favorite of the supporting cast is Mike Applebee, Tony Chu's new boss at the FDA, who intensely hates Tony for no good reason and makes Tony's life an absolute living hell. He is a blast to write, and all the scenes with him and Tony are real high points for me whenever they occur.
The other major supporting character is Amelia Mintz, the love interest. Like Tony, she has a weird power. She is a Sabocrivner, a food critic able to write about food so accurate you get the sensation of taste when you read her reviews. She pretty down on the culinary world when we meet her, so she writes reviews of the city's worst restaurants, so when we first meet her, she's given about half the city food poisoning.


TFAW.com: All of the preview images of the supporting characters look amazing. How'd you come up with these crazy-looking characters?
RG: Well, Tony was pretty straightforward since he's based on actor Ken Leung, so I just went with a slightly geeky little guy who has the ability to have a bit of an edge of sarcasm and heroism from time to time. For Savoy, John used Orson Welles as a reference point, so I just took a bit of his look, blew his physical proportions up ridiculously and made him really proper and well-dressed. I'm pretty proud of the monocle in hindsight, actually.
Really, my mission here is to make every issue a huge cornucopia (food pun!) of really quirky, iconic characters. Every character has its own story to me, regardless of whether John has anything in mind or not. I just want each and every one to be fun and interesting. I draw upon favorite actors, musicians, or just people I see on the street and dial them up to 11 in a way that I either find interesting or funny. It's a blast.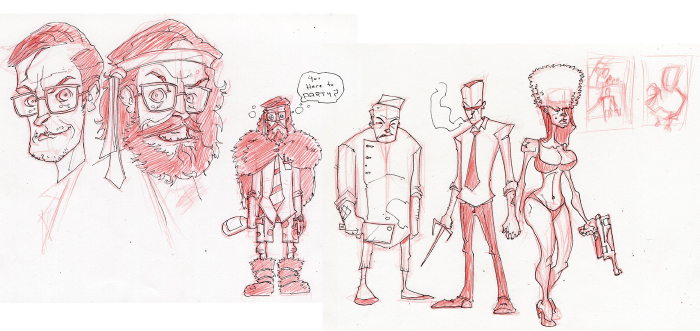 TFAW.com: John, we already know you can write for Zombies, Deadites and Marvel's First Family, but has CHEW challenged you to change your style a bit?
JL: If anything, stylistically, it's the closest to IDW's Scarface: Scarred for Life miniseries that I wrote. I think that's the book where I finally let loose and got 100% comfortable with a really rollicking, anything-goes, very confident narrative style. There was something about that book that really clicked for me as a writer, and even though it was not a book that sold very well, I think it was a turning point of me as a writer.
TFAW.com: How did you guys meet?
JL: I'd been looking for an artist for a while, reaching out to friends, reaching on to online message boards. I hit paydirt through Brandon Jerwa, who'd been working with Rob on a Tokyopop pitch. Some of the stuff on Rob's website was EXACTLY what I was looking for, and we talked, and I gave Rob the scripts, and it was just a good match all around.
TFAW.com: Rob, your art is awesome. It looks like you have the perfect style for the story. How'd you get the gig? Do you typically ink your own pencils?
RG: Yeah, I was just minding my business, and this craziness totally landed in my lap [laughs]. I was actually packing up for San Diego Comic Con last year, and John emailed me outta the blue. I was already familiar with some of his work (Puffed is a personal fave), so I was immediately interested. Then he told me what it was, and after an initial "What the?" reaction, I realized what John had lightning in a bottle here. And reading the first script on the plane ride over really sealed the deal for me. We met the next day, and that's history.
I handle all art on CHEW, all design, breakdowns, pencils, inks, and colors. For me, I visualize the entire image, so I don't consider the work complete until all those aspects are put in. I've always done all the work myself. I'm pretty anal, so I couldn't imagine letting anyone else touch my art.
TFAW.com: What's your favorite aspect of CHEW?
JL: Perhaps the idea of a cop that gets psychic impressions from what he eats sounds limiting, but the way CHEW is set up–and this will become evident as the book progresses–the book has almost limitless potential for different types of stories. Even the first five issues are radically different from one another, and as a writer I really enjoy the freedom it gives me.
RG: Well, there's a lot that I love about this book. First, there's a level of originality to it that's just refreshing. There is not another book like CHEW, and I think that's a huge accomplishment in this era of constant creative recycling. It's different. It's fun. It's quirky, and it's really, really good.
Secondly, I totally agree with John. There's SO much variety and richness within this story. Every issue takes the reader somewhere else and expands its world just a little bit more. And as an artist, that's HUGE, because that means that I'm constantly being challenged to stretch myself in a new direction. It's very liberating.
TFAW.com: What do you say to the person who hears the word cannibalism and bails before they find out other things about the story and characters?
JL: I curse at them.
RG: They're nuts. They have no idea what's in store here. There's WAY more than meets the eye to this book, and I think that's gonna become more apparent as the story progresses.
TFAW.com: The more I see or read about CHEW, the more excited I am. Any other morsels we haven't covered?
JL: I think you covered everything, though I want to thank anybody in advance who picks the book up for giving something different in today's market a chance, and assure you Rob and I are doing everything we can to make sure CHEW is completely unique and entertaining and worth every penny you spend on it. Thanks!
RG: Ditto. It's very cool that so many folks have been very vocal about supporting the book, and I don't think they'll be disappointed by any stretch. It's a fun ride.
We want to thank John and Rob for taking time out of their busy schedules to chat with us. CHEW begins next month and the first two issues are available for pre-order right now. Still don't know if this book is for you? Check out our CHEW #1 First Look and try before you buy. Be sure to check out our blog next month for a review of the first issue!
What do you think? Are you as excited about this book as I am? Already got your pre-order in? Let us know below!
Please follow and like us: