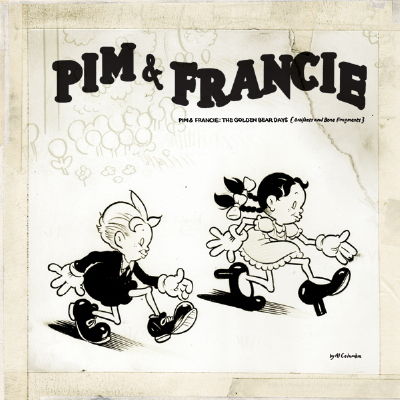 Al Columbia is an enigmatic figure in comics, surrounded by years of speculation and controversy. Bursting onto the scene as a teenager, Columbia was tapped to take over for artist Bill Sienkiewicz to work on Big Numbers by Alan Moore. Nice debut if you can get it, right? However, the comic was never published, leading to a number of wild rumors–most created by Columbia himself, who later admitted to destroying the artwork. Or did he?
Since then, an intermittent trickle of Columbia's odd, brilliant work has been published–often overshadowed by projects that were announced and then canceled or never completed, leading to an industry-wide question: "Whatever happened to Al Columbia?"
Well, we're excited to announce that Fantagraphics is publishing Pim & Francie: The Golden Bear Days, collecting more than a decade of Columbia's work. Pim and Francie are two children who look like they stepped out of the Golden Age of animation–think Warner Bros. cartoons of the 1930s–but their adventures are dark, grotesque, and subversive.
This is a stunning collection, offering an up-close-and-personal look at Columbia's artistic mastery–and his psyche–that is impossible to ignore.
Take a look at our exclusive, 15-page preview of Pim & Francie: The Golden Bear Days to see what we're talking about!
Who out there is an Al Columbia fan? Are there any legends you want to share? Are you excited for the book? Post below!
Please follow and like us: