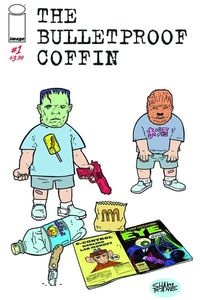 For the second year in a row, artist/writer David Hine has pledged to support the Comic Book Legal Defense Fund by contributing a sketch to their annual auction at San Diego Comic-Con. That's right, Hine has signed on to our Second Annual SDCC Autograph Card/CBLDF Auction event! As a returnee from 2009, we are thrilled to welcome him back. Not only will be creating limited-edition autograph cards from his donated art, but 100% of the proceeds of his original sketch will be used to support the First Amendment rights of the comics community!
Hine has been working on several title for Image Comics, including Bulletproof Coffin and Strange Embrace. He's also done a lot of work for DC Comics, including Batman: Arkham Reborn, Detective Comics, and Azrael.
We will be taking all of the sketches from our awesome publishers and creators and creating limited-edition autograph cards that you can collect, for free, at Comic-Con in San Diego. To get yours, stop by the TFAW booth and the booths of our participants!
Want to be a part of the action? If you're a comics professional who wants to get involved, we will gladly accept new participants up through July 14–email Andrew McIntire with the subject line, "CBLDF Auction 2010" now. Or simply become a member of the CBLDF.

SUPPORT THE COMIC BOOK LEGAL DEFENSE FUND

SEE ALL PARTICIPATING COMPANIES & CREATORS
Check out David Hine's 2009 autograph card:
Please follow and like us: