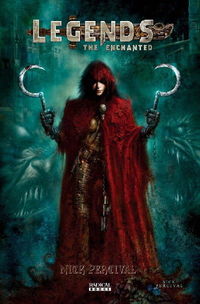 Just when you thought we couldn't possibly add any more contributors, artist Nick Percival has signed on to our Second Annual SDCC Autograph Card/CBLDF Auction event. It's for a good cause: the Comic Book Legal Defense Fund was founded to defend the First Amendment rights of the comics community! Last year, TFAW helped them raise more than $30,000 at their San Diego Comic-Con Auction, and this year, Percival will be one of the artists whose work is up for bid.
Percival is the creator of Legends: The Enchanted, a dark, steampunk take on traditional fairytales from Radical Publishing. You can view an exclusive interview with Percival and see some amazing pinups here. Percival will be creating an original sketch that he will donate to the CBLDF San Diego auction this summer, and we will be taking his sketch–as well as those from our other generous publishers and creators–and creating special limited-edition autograph cards.
To collect them all, visit the booths of all of our participants at SDCC, as well as the TFAW booth, and pick them up for free!
Want to be a part of the action? If you're a comics professional who wants to get involved, we will gladly accept new participants up through July 9–email Andrew McIntire with the subject line, "CBLDF Auction 2010" now. Or simply become a member of the CBLDF.

SUPPORT THE COMIC BOOK LEGAL DEFENSE FUND

SEE ALL PARTICIPATING COMPANIES & CREATORS
Who else would you want to see participate? Post your comments below!
Please follow and like us: