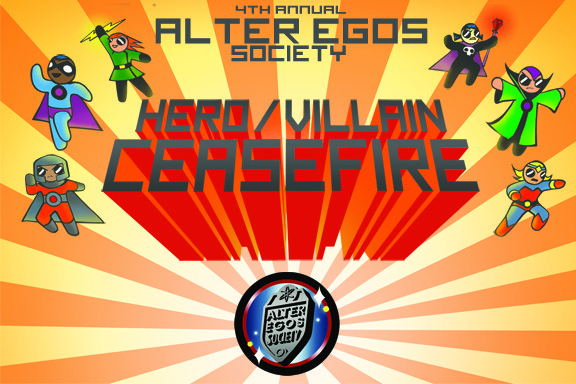 The Alter Egos Society's 4th annual Hero/Villain Ceasefire Party is upon us! On Saturday, October 9, heroes and villains alike will descend upon Paradise Dance Studio (at 826 SE Belmont) between the hours of 8 p.m. and 1 a.m. for live music, contests, and games that test whether bitter enemies can become super friends.
Tickets will be $7 for costumed attendees and $10 for the those not in costume, with all proceeds going to p:ear, a local organization that supports homeless and transitional youth through creative mentoring. This is a once-a-year chance for super villains and superheroes to casually socialize outside of their epic battle and talk to each other about their exploits!
Prizes provided by Things From Another World, Excalibur Books and Comics, Floating World Comics, Guardian Games, and more will be awarded for best costumes and powers. Also, the headlining band for the evening will be Myrrh Larsen, with other performers to be announced. There will be food, beer and liquor on hand for replenishing your energy levels after heated battles. The Alter Egos Society asks that attendees dress as original characters and not someone from comics or movies; the costume can be as simple or as elaborate as you want. All profits from the sale of tickets, drinks, DVD sales, and t-shirts will be donated to p:ear.
The Alter Egos Society supports the community by wearing tights in public. In unique superhero and villain garb, they make films and host annual costume events for fun and for charity. Most proceeds from their events and product sales go directly to p:ear. Want to learn more about the Alter Egos Society? Visit their website at AlterEgosSociety.com.
Are you going to attend this epic event? Have you participated in any of the Alter Ego's Society meet ups before? Post your comments below!
Please follow and like us: