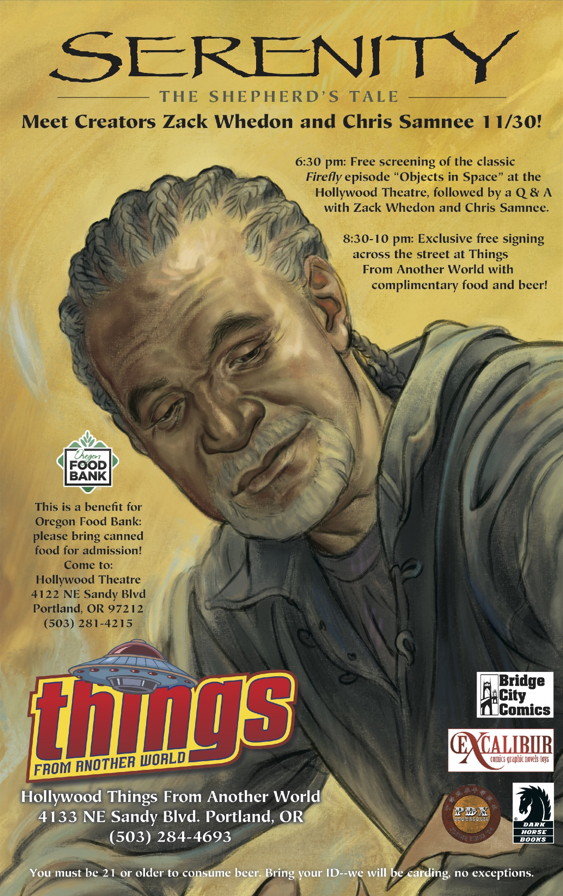 As you may already know, Things From Another World, Dark Horse Comics, and PDX Browncoats are throwing an amazing Firefly screening/Serenity signing November 30 with Serenity: The Shepherd's Tale creators Zack Whedon and Chris Samnee! It all starts at the Hollywood Theatre in Portland, Oregon at 6:30 p.m. (doors open at 6:15 p.m.) with a screening of the classic Firefly episode "Objects in Space," followed by a Q & A with Zack and Chris.
Attendees of the event, which is also co-sponsored by Excalibur Comics & Books and Bridge City Comics, will be able to ask Whedon and Samnee questions after the episode. Admission to the event is one canned or nonperishable food item for the Oregon Food Bank.
If you don't live in the Portland Metro area, you still have the chance to ask Zack and Chris a question! Here's how:
Install Skype onto your computer
Search for the user name TFAW.com and add us as a contact
Call TFAW.com 11/22-11/24 or 11/29 via Skype, between 9 and 3 pm PST, and tell us why you want to ask Zack/Chris a question. Due to an overwhelming demand, we are pre-screening questions in advance to avoid repetition
Log on to Skype from 7:30-8:30 p.m. PST on 11/30
DO NOT CALL IN
We will select contacts who are online at random and call them during the Q & A, so have your questions ready!
After the Q & A, festivities will move across the street to the Hollywood Things From Another World store for a signing with complimentary food and beer. Make sure to RSVP to the Firefly screening and Serenity signing on Facebook! Admission to the event is canned or nonperishable food for the Oregon Food Bank!
Remember, if you are participating via Skype, DO NOT CALL IN, as it will interrupt the event!
Are you coming to our awesome Serenity event? What questions do you want to ask? Post your comments below!
Please follow and like us: