SPOILER ALERT! Scott Allie Discusses the Shocking Events of Buffy #39!
SPOILER ALERT! This really can't be said often enough for this one: if you haven't read Buffy Season 8 #39 yet, do not watch our three-part interview with the Dark Horse Comics Senior Managing Editor Scott Allie! We talk frankly about the events of Buffy #39 and what this will mean going forward into Buffy Season 9.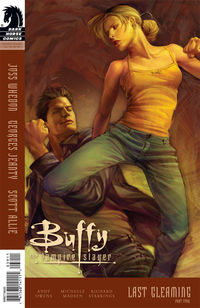 BROWSE BUFFY COMICS AND MORE

SUBSCRIBE TO OUR YOUTUBE CHANNEL
Have you read Buffy #39 yet? What do you think?
Please follow and like us: