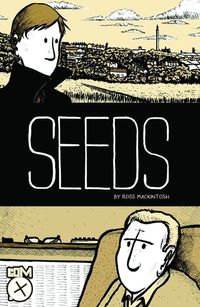 When most people think of comics, they automatically picture giant superheroes and terrifying monsters. Seeds isn't one of those comics. Instead, it's an autobiographical account of creator Ross MacKintosh's experience of losing his father to terminal cancer, and a powerful narrative about saying goodbye.
Seeds doesn't need to shout–it's a quiet book about small moments. The omnipresent hand sanitizer dispensers in hospitals. The stillness of the waiting room. Even the game Ross played with his father when they were younger, "Spinnos," was done while they were seated in the living room. But each tiny piece adds up to an incredibly authentic experience of an ordinary family as they deal with the impending death of a loved one.
Not to say Seeds doesn't have its moments of levity and humor–the dad, in particular, keeps a wry sense of humor, even in the most undignified of situations. But I'd be lying if I said I didn't have a lump in my throat when I read it, especially as Ross plays with his own children with a new sense that one day, he'll leave them too.
MacKintosh's art is similarly understated and restrained, with five or six panels per page. His figures are simple, often lacking mouths or a great deal of detail, but they are bittersweet, evocative, and leave space for the reader to fill in the blanks with his or her own emotions. This isn't melodrama. As someone who lost her grandfather to cancer years ago, I can attest to all of the little moments MacKintosh got exactly right.
Seeds is out April 27 from Com.x–make sure to check out our six-page preview, below. It's a worthwhile collection to anyone interested in comics lit, and one of the best graphic novels I've read all year.
What do you think of Seeds thus far? Post your comments below!
Please follow and like us: