New Reviews of Comics and More!
We're back with our weekly comic book reviews! This week, we review Fantastic Four #600, Batman: The Dark Knight #3, Milk and Cheese: Dairy Products Gone Bad HC, and the Blackest Night Action Figure Box Set, plus we share more details from our upcoming Black Friday and Cyber Monday deals!
Check out our video below. MILD SPOILER ALERT! We'll avoid any big spoilers, but we will give out a few details as we go. So were these comics and items Box-Worthy, Fence-Worthy, or NOT Worthy? Listen to our opinions and then post your own below.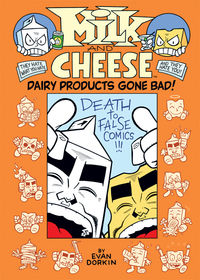 SEE ALL OF THIS WEEK'S COMICS AND MORE

BOOKMARK OUR BLACK FRIDAY/CYBER MONDAY PAGE

SUBSCRIBE TO OUR YOUTUBE CHANNEL
What did you think of these titles? What should we review next week? Post your comments below!
Please follow and like us: