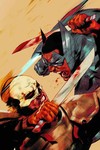 As part of our monthly Product Review Contest, we've picked three reviews and are awarding $25 gift certificates to the people who posted them.
Matthew from Boring, OR is the first of this month's winners. His endorsement of the Batwing series was better than any recommendation we could come up with for the series (We do recommend you check it out, BTW. The art and story are both top-notch):
I'm a big Batman fan so when I heard of the new African Batman called Batwing I was a little sketchy, but after got to reading the first issue I wanted more. I really like the super villain, Massacre, who stays true to his name but also hunts down super heroes. He's a great first challenge for Batwing, and I'm excited to see how Batwing is going to overcome such a powerful villan. I also like how gruesome this come comic has become. This has become one I my favorite New 52 series.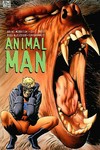 Andrew from Australia wrote a bunch of awesome reviews last month for some DC graphic novels, one of them being Grant Morrison's Animal Man TPB Vol. 1, which we've included below:
This is Grant Morrison's masterpiece. Leave your baggage at the door – I don't care if you think he's a genius or a nut-case, this is proof the man can write. Buddy Baker is a family man, dealing with regular family issues while trying to be a superhero. Morrison's true skill lies in the fact that he can write a family of regular people and make them interesting. That sounds easy, but remember when Wally West (The Flash) had kids – what a disaster. On top of that are some truly brilliant stories and some seeds planted for future events in later issues. I know it looks a bit hokey (Animal Man does sound a little lame) and Morrison can be a divisive writer, but this is worth your time and money if you're looking for something outside of the normal superhero fare with a good dollop of humour, horror and genuinely touching moments.
Finally, Matthew F. from New York dropped by for a few reviews, one of them for the Lobster Johnson: The Satan Factory novel. Here's what he had to say:
First let me make clear that I wasn't all that familiar with the character of Lobster Johnson/"The Lobster" before I read this. Having said that, the author and/or Mike Mignola seem to have combined the best of the pulp heroes to create him (The Shadow, Doc Savage and The Spider to name a few), and to great effect. I'll go so far as to say that the book itself is a love letter to the pulp magazines in general. I would suggest this to anyone that enjoys action, pulp magazines/heroes, and the feeling of kid-like escapism that this book creates.
We want to thank everyone again for sharing their product reviews last month. Good stuff! If you're submitting product reviews, please don't submit duplicate reviews or submissions from other merchant websites. You don't have to like the product to snag a winning review, so feel free to rant or gush.
So submit your reviews and help your fellow collectors, and us, sort out the "HOT" from the "NOT"! Who knows, you may be one of next month's winners.
HOW TO SUBMIT A PRODUCT REVIEW:
It's simple! Just visit any product page and look for this:
Click on it and our product review form will appear in a popup. Just fill out the pertinent information and submit your review, and you're done! We'll take a look at your review and get it up on the product page soon thereafter!
There's also a really easy way for you to call up everything you've ever ordered from us and review it. Simply log in to your account and go into the Order History Section. Next to each item, you'll see a "Review it!" link.
Questions? Comments? Let us know below!
Please follow and like us: