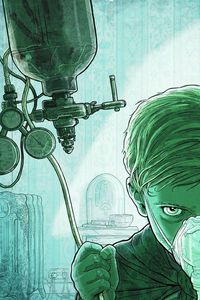 Imagine a hard-living billionaire executive needed a new liver. Who would he turn to, to "procure" a new organ, all while keeping it a secret from his shareholders? Harvest is the new five-issue miniseries written by A.J. Lieberman (Cowboy Ninja Viking, Term Life) with art by newcomer Colin Lorimer that explores the seedy underworld of organ harvesting. Check out our exclusive interview with Lieberman and Lorimer below and visit our Harvest Contest page to learn how to win a subscription to the series.
Dr. Benjamin Dane has hit rock bottom. He's lost his medical license, and finds himself with very few options. Caught up in a world of human trafficking and organ harvesting, he decides to turn the tables on the extremely powerful and dangerous people he's working for.
TFAW: Yakuza-run organ mills, rogue medical teams, a six-year-old drug fiend. Harvest is much darker than your other work, how'd you come up with all the pieces? Where did you draw your inspiration?
Lieberman: I would agree, Harvest is dark. And creepy. And bloody.
You know, after completing Term Life, what I wanted to do most was to create a character/hero that was really tough to get behind or root for. Someone that was doing morally reprehensible things but still managed, somehow, to keep the reader in his corner. I figured if I could do that, the book would be a success. So every time I let Ben (our nominal hero) off the hook, I cut that from the script and pushed him a little further out on that limb.
TFAW: Can you tell us a little more about the story's protagonist, Dr. Benjamin Dane?
Lieberman: Ben is a guy who has some . . . issues. He's a drug addict, has a drinking problem, loves hookers, all of which are problems for anyone, but are especially problematic if you happen to be a surgeon. However, once Ben falls down the rabbit hole that is illegal organ harvesting, he manages to find something he thinks he can make a little better.
TFAW: Do you remember the moment you realized you had the initial idea for Harvest? How long did it take you to get the full pitch put together?
Lieberman: It really started with the character of Ben. This total failure of a person and doctor who slowly finds something that finally gives him something to grab hold of and do something about. He's very much in this Breaking Bad-type mold.
From there it was a short jump to putting this guy in the middle of something as dark and interesting and morally ambiguous as organ harvesting, done in everywhere from state-of-the-art O.Rs to Motel 6 rooms.
TFAW: With only five issues to tell the story, it sounds like you'll have to keep the pace going pretty fast.
Lieberman: The book moves at a really good clip without sacrificing really disturbing story moments. Plus issue #1 is 26 pages long! And the end of #3 is my favorite ending to a book I've written thus far. And I would assume if the demand warrants we'll continue on. Colin and I both want to, anyway.
TFAW: Another interesting character in Harvest is Greer. What can you tell us about her involvement in the story?
Lieberman: Greer, like Ben, is a surgeon who has lost her medical license and found herself in the very lucrative world of off-grid operations and illegal harvesting servicing the very wealthy and powerful. Unlike Ben, she plans on staying in that world as long as possible. She's bought into it and loves the six-figure income it gives her. I cannot wait for people to read and see her intro. It's great.
TFAW: Who's going to dig this book?
Lieberman: If Dexter and 100 Bullets and ER somehow hooked up and had a three-way, and that three-way somehow resulted in a kid . . . that kid would grow up to read Harvest.
It's a lot darker than Term Life but has hints of the humor of Cowboy Ninja Viking. But at the end of the day, what I'm most proud about is the fact that it really is the perfect combination of story and art.
TFAW: You've also worked with the folks at Image Comics on Cowboy Ninja Viking and Term Life. Are we detecting a pattern? What are your favorite aspects about working with the folks over there?
Lieberman: Well, for one they let creators create, which is the backbone of creator-owned comics. As a creator, if you have a vision for your book, you really want to see it come out that way, and Image/Shadowline allows me to do that.
TFAW: How did series artist Colin Lorimer get involved with the book?
Lieberman: I actually contacted Colin through a friend of his. We started talking and we did a few test pages, and things just gradually grew from there. And since Colin is Irish and I'm not, we really had a lot to talk about to break the ice.
TFAW: If you woke up in a tub full of ice with one or more of your organs missing, what would you do?
Lieberman: You mean after I was done freaking out?
TFAW: What comics are you digging right now?
Lieberman: I just re-read the Umbrella Academy TPB, which I really dig. That had a big impact on Cowboy Ninja Viking.
TFAW: Colin, the story provides a lot of potential to play with lighting, shading, and perspective. How much of your influence is there? Does AJ give you a lot of direction?
Colin Lorimer: My background is in storyboard direction and conceptual design, so staging a scene and making sure it serves the story is something that comes quite easily to me. Once AJ passes off the script–I work up the full issue in layout form, and we then discuss and make sure that everything is flowing and reading as it should. Andy will certainly make staging suggestions, as he may have seen a certain scene staged differently . . . it's quite an organic process . . . but, for the most part, Andy lets me run with it and trusts that I'll deliver the goods.
TFAW: What's your process for coming up with character designs?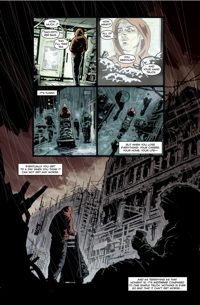 Lorimer: Andy and myself will throw out various film actors' names and see what fits. It's always a good starting point, almost like casting the movie version of Harvest. We decided on Ryan Gosling for Ben, a cross between the lovely Eva Green and Olivia Wilde for Greer. I believe Craven was Terrence Stamp . . . Andy wanted Chuck Norris or Jean Claude van Damme, I've no idea why . . .
With six-year-old Noah, I referenced pics of my son Olin when he was that age and went from there. We had to get that wide-eyed innocence–but taint it with something a little darker, something going on just behind the eyes. It was all about his expression more than anything else.
TFAW: Issue #1 is chock full of really unique scenes. What are your favorite moments of the series so far?
Lorimer: I think as we move through the series–six-year-old Noah will certainly be a highlight.
TFAW: What's your typical work day like? For a typical page, how long does it take you to get everything looking like you want it?
Lorimer: Coffee and music is my key motivation once I hit the office. My crack dealer usually arrives between 6 and 8 pm, if I'm finding I need that extra boost to get me into the wee hours.
The time it takes me to work up a page is a little hard to determine. Sometimes I'll also work up all the character-related stuff on a few pages, and then go back and fill in the backgrounds later. Or, I'll pick a page to draw that grabs my interest and go from there.
I work the entire book up in black and white, and then when we're satisfied with how it's all looking, I start to apply the color. I should mention that I work completely in digital and that everything is drawn up on the Cintiq.
I start with really rough layouts, a little cleaner than a thumbnail, and then take that and resize it and literally start into the inking process. The inks are in fact my pencils, so to speak, and I erase and redraw until I settle on the final image. I am very comfortable working this way and don't miss having to clean my dirty brushes and everything else that traditional art entails. Of course, when Photoshop crashes–then, it's a different story!
TFAW: Do you have to do a lot of photo referencing for characters or environments?
Lorimer: Yes, the book is real-world, so it's important to make sure that everything looks and functions as it should and has a believability to it, if not–it will take the audience out of the story. Most of referencing is focused on the props and the environments–the character stuff not so much, though I will get friends to pose if it's a difficult action or weird angle.
TFAW: What comics are you digging right now?
Lorimer: Dark Horse Presents is very good. I usually buy trades these days–the last one that I really loved was Mesmo Delivery Service by Rafael Grampá. Scott Snyder's Batman: The Black Mirror was very good, and Jeff Lemire's Sweet Tooth never fails.
Our thanks to AJ and Colin for taking the time to talk with us about Harvest, and for giving us the opportunity to check out an advance copy of Harvest #1. Having read it, we can say that it's the real deal. If you're looking for something outside the "capes and crooks" genre and want a really compelling read akin to series like Criminal, Sin City, or 100 Bullets, you'll definitely dig Harvest.

PRE-ORDER HARVEST #1 NOW

LEARN HOW TO WIN A HARVEST COMIC BOOK SUBSCRIPTION
What do you think of this new series? Intrigued about the thought of a six-year-old drug fiend? Post your comments below!
Please follow and like us: