Cover artist Jenny Frison has been getting a lot of work recently, and for good reason. Her gorgeous work has graced covers for books like Angel, Hack/Slash, I, Vampire, and most recently Tim Seeley's new Revival series from Image Comics (keep reading to get an exclusive first peek of Revival #5).
We had the chance to chat with Frison about her process, what drew her to comics (see what we did there?), and her trip to the store to purchase the first book with her art on the cover. Enjoy!
TFAW.com: What are your earliest memories of comics? What was the first comic you read?
Jenny Frison: As a kid, I read a lot of Barbie and Barbie Fashion, which were published by Marvel. But I remember being really affected by a Fisher Price storybook I had called Wonder Woman: Cheetah on the Prowl. It was illustrated by Ross Andru and Dick Giordano. It was pre-Crisis Wonder Woman and it totally doesn't count because it was a storybook . . . not a comic. But it definitely began a lifelong love of Wonder Woman . . . which directly influenced my future career choices!
TFAW.com: What inspired you to work in the comic book industry?
Frison: I drew constantly as a kid. Mostly unicorns and princesses, and I created a comic strip that was a direct ripoff of Calvin and Hobbes, but with a little girl and her dog. And I took lots of park district art classes. But when I got to high school, I pretty much stopped drawing. It wasn't until my freshman year in college, when I took an art history class about comics, that I realized I wanted to draw. I realized that comics was this creative thing that I had to be a part of somehow. So I started taking art classes and switched to a school with an Illustration program.
TFAW.com: It seems like we can't turn our heads without seeing one of your comic book covers. What are some of your favorite gigs so far?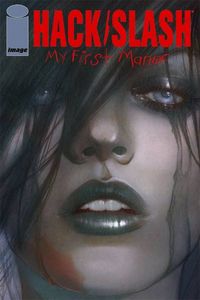 Frison: My favorites are the ones where I have the most freedom. I was very lucky to get so much flexibility with IDW's Angel series. Hack/Slash is another of my favorite books to work on. Cassie is such an interesting and complicated character. She is a very gratifying character to draw.
TFAW.com: How did you break into the comics industry?
Frison: After my very first cover came out, I went with my sister to the comic store to get copies . . . and then tried to show it to people in other cars as we drove home. Obviously, I was pretty excited. I don't know if there was a moment where I "broke in." It was very difficult to get jobs in the beginning. Then it got less and less difficult with each cover. Then I didn't have to look for work because I always had something coming up. Is that breaking in?
TFAW.com: How has your experience been as a female creator in the comics industry?
Frison: I think this is the best and most exciting time to be a lady in comics. I am totally aware that I am a female in a mostly male-centric industry, but it doesn't make me feel any different. I know it may be a fundamental issue for some people, but I think the best comic fans and industry professionals just like what they like and they don't care the gender of the person making it (or race or sexual orientation, etc). Those are the people I meet most.
TFAW.com: What's your dream project?
Frison: I'm not really sure. Obviously, I have a lifelong love of Wonder Woman, but I think my dream job is just to make covers for a book with really interesting and layered characters in which I have a lot of creative freedom and control over. Something where I can create images and feel like they are mine, not just work for hire.
TFAW.com: What are three things you think comic book publishers should be doing to attract female readers?
Frison: I don't think anyone needs to work to attract female readers. People should just focus on writing interesting stories with complicated characters. Everybody wants to read that . . . females included. However, the real push in the industry needs to be to figure out how to get people that aren't reading comics (men and women alike) into comic stories (or digital stores . . . wherever comics are sold). I meet a lot of people that say: "I'm not a comic reader." Meaning: "I'm not the kind of person who would read comics." That's crazy! It's not like saying: "I don't like horror." That's a genre . . . comics is an entire medium! It's like saying: "I don't like movies." Somehow, we need to figure out how to convince those people that there is a comic out there for them . . . and probably many comics. That their lives would be enriched by that comic. And then get it in their hands!
TFAW.com: What aspect of comics have you struggled with, as an artist?
Frison: As a cover artist, I have the luxury of working from start to finish on one image. Usually, my main focus is to make the image as affecting as possible–whether it be beautiful or disturbing or inspiring or whatever. And I want it to say something about the comic within. I struggle trying to create an image that stirs the viewer. I want people to notice it on the shelf and want to see what the book is about, but I have to figure out how to do it in one image.
It is also hard trying to keep each cover unique and as dynamic as possible. Creating movement and keeping it from looking stiff. I don't always succeed, but I learn something new with each cover.
TFAW.com: Can you describe your process for us?
Frison: Every cover I do starts with a sketch. Often it is just a quick layout to get the general idea across to an editor. Once I have my layout approved, I'll usually tighten my sketch up and then move on to final pencils so that I can focus on movement and keep my line clean. Those pencils act as the final line work for my cover. Next, I often do a tonal drawing on gray-toned paper with copic marker, graphite, and white pastel. I like to do my rendering traditionally so I can get my hands dirty, but without having to be too concerned about what colors to pick. Finally, I color the cover in Photoshop. I can spend as much time as I want adjusting the colors until I've got what I'm looking for.
TFAW.com: What advice can you give aspiring comic book creators?
Frison: Obviously, practice like crazy. Draw all the time. But if you think you are at a level where you are employable and you are trying to figure out how to start getting work, my first advice is always: go to conventions! Meet editors and publishers and other artists. Show your work around. Find out what you need to work on to get work. And know who you want to work for. Different publishers are looking for different things. Try to focus your portfolio towards who you are interested in working for. But don't be afraid to hand it to everybody!
Second: Make something to leave behind. Editors will see hundreds of portfolios a day at conventions. Make copies of your work to leave behind with a business card or some kind of contact info and where they can see more of your work.
Third: Have some kind of online portfolio. I think editors prefer to see a website, but anything that is easy to navigate and view your work. As soon as you think you are employable, make your art as available as possible. You could be the best artist in the world, but if no one sees your work, no one will hire you.
TFAW.com: Whose work has had an influence in your art?
Frison: I pull a lot of inspiration from everything, from Alphonse Mucha and the entire art nouveau movement, as well as Victorian decorative art. There are some incredible fine artists working in comics. Joao Ruas and James Jean (although, not currently working in comics) are inspirations, for sure. I've also always been a big fan of Kevin Nowlan, Adam Hughes, Brian Bolland, and many others.
TFAW.com: Who's one woman in comics that you admire?
Frison: Two of my favorite artists right now are Amy Reeder and Rebekah Isaacs. Everybody on the planet should be checking out every book they do. Totally amazing.
TFAW.com: What was the last comic you read?
Frison: It was actually Hoax Hunters #2. Granted, I have a little bit of an insider knowledge about the book because I live with one of the creators, but I still prefer to wait until I read the issues to learn the specifics. Issue #2 was my favorite so far!
TFAW.com: What projects do you have coming up soon?
Frison: I'm working on covers for Image's new series Revival with writer Tim Seeley and (Eisner Award-winning!!) artist Mike Norton. Tim and Mike both live here in Chicago and I share a studio space with them, so I get to work pretty closely with them on the covers. The story is amazing and I'm really enjoying it!
I'm also finishing up covers for IDW's adaptation of Peter S. Beagle's A Fine and Private Place. And I just finished up covers for Dark Horse's Spike miniseries. And I have a few other things on the horizon that haven't been announced yet!
—————–
We want to thank Jenny again for taking the time out of her busy schedule to answer all of our questions! It was great getting a peek into her process and hearing about her first outing to pick up a comic with her art on it.

SEE OTHER WORK BY JENNY FRISON AT TFAW
Are you as big of a Frison fan as we are? One of our favorites of hers is Spike #3, pictured here. What's your favorite issue featuring her art? Let us know below.
Please follow and like us: