Our Ibrahim Moustafa signing for The Pound: Ghouls Night Out was unlike any event we're ever thrown before at the Portland Things From Another World. Not only did we sell out of the book, but Ibrahim and his friends Spencer Suspense, Donna DonnaMation, Michael Mantis, and (Sal) Yen Boogie put on a funk styles dance performance that blew our minds!
We caught up with Ibrahim after the show and got the inside scoop about The Pound — a supernatural comedy featuring two unemployed animal control specialists who open up their own "pound" — for demons! Check out the video, below. SPOILER ALERT! The dancing is also super rad.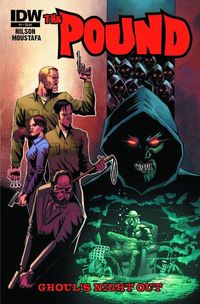 ORDER THE POUND: GHOULS NIGHT OUT & SAVE 20%

SUBSCRIBE TO OUR YOUTUBE CHANNEL
We've made it simple to share this video on Facebook and other social media outlets with the social networking buttons near the title. If you wouldn't mind doing us a solid and sharing this video with your friends, we'd be eternally grateful. Are you as impressed with the dancing as we were? Post your comments below!
Please follow and like us: