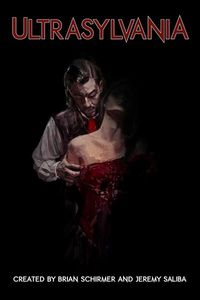 Fans of classic horror, take note! Creators Brian Schirmer and Jeremy Saliba are here to introduce us to Ultrasylvania, an epic that offers a unique twist on the stories of Dracula and Frankenstein.
Much like Dracula or Frankenstein's monster, Ultrasylvania has quite the origin story: it began as a class project at San Francisco's Academy of Art University. Under the guidance of writer Brian Schirmer and art director Jeremy Saliba, eleven artists brought this tale to life — first as a web comic, and now, after a successful Kickstarter effort, as a graphic novel available here at TFAW!
Brian and Jeremy took us behind the scenes for a fascinating interview, below, and also shared a five-page preview! Read on to learn more:
TFAW: Ultrasylvania is unique in that it was a class project with the Academy of Art University. Did that affect how you selected your subject matter?
Brian Schirmer: Not at all. Actually, the story had been brewing in my head since a trek around Europe in the summer of 2011 — but I didn't know what to do with it. Initially, I thought it might make a good novel. It wasn't until a former student came to me and suggested not only that the Academy should have some sort of comic collaborative class, but also that it should be built around something I wrote. From there, the two concepts coalesced.
TFAW: What drew you to the tales of Dracula and Frankenstein's monster?
Jeremy Saliba: My favorite thing to do in storytelling is to take an existing known story and turn it on its head. In this case, starting off with the classic literary version of these characters and then taking them someplace new, while trying to remain historically grounded, seemed like a great idea and one I haven't seen a lot of.
BS: I'd certainly grown up with the books and the films, and really dug most of them. That said, prior to this, it had never crossed my mind to write anything involving those characters. It wasn't until the basic hook came to me — What if these creatures were leaders on the world stage? — that I found something I could sink my teeth into. No pun intended.
TFAW: Ultrasylvania features the work of an astounding 11 artists! Jeremy, what were some of the challenges of managing so many students and styles?
JS: Having these 11 guys come on board was a big relief for me from the beginning. We were able to hand-pick the cream of the crop from a very impressive pool of talent at the Academy, and I knew that our art was going to be in very capable hands.
From the outset I wanted the artists to each have a lot of creative input and bring their own individual styles to their respective sections of the book. Keeping control of that and making the book and characters consistent was probably the toughest part of my job. I feel we were able to keep things on track by establishing some key elements to the character designs that would be a constant throughout the book. Victor's long hair and sizable frame, Dracula's overall wardrobe and style, and the color palette were all elements that helped keep the look consistent. We're hard at work on Volume 2 to tighten those elements up and keep the look of things even more solid this time around, and the results so far are outstanding.
TFAW: Was Ultrasylvania influenced by any other comics creators?
BS: Far more than I'm likely conscious of. Steranko, Butch Guice, Kevin O'Neill, Morrison, Moore, Ellis, Rucka, Hickman, Fraction, Cooke, Bendis, Brubaker, Bill Mantlo. There were plenty of cinematic influences to the story, too, but I'd rather let people discover those on their own.
JS: Visually we referenced a lot of comic artists throughout the production. Mike Mignola, Greg Capullo, Jerome Opena, Dave Gibbons, Jim Lee, Joe Madureira, Gabriel Bá and Fábio Moon — well, the list goes on and on. Basically anyone awesome.
TFAW: Brian, you've made a lot of dramatic changes to the original stories of Dracula and Frankenstein. What influenced your decisions?
BS: Context, really. They needed to be products of the world we created. Everything that happens in Ultrasylvania stems back to what occurs on page 1, wherein Napoleon's Commission des Sciences et des Arts unearths something it shouldn't in Egypt. This one event changes the world, spurs Dracula to return to his native land, and results in the reactionary creation of Frankenstein. And, yes, Frankenstein. Not Frankenstein's monster, or anything like that. There's reasoning behind the name change, but it won't be revealed until Volume 2.
TFAW: You teach a Writing for Comics class. Did this put extra pressure on you? Will this experience affect your curriculum, going forward?
BS: No and yes. No to the extra pressure. Yes to the effect on the curriculum. The entire process of creating Ultrasylvania has informed the writing class, allowing me to share the experience with those students as it happens — which is great. Furthermore, based on the success of this project and other endeavors in the Academy's School of Illustration, the school is broadening the scope of its comics program.
TFAW: What can you tell us about the future of Ultrasylvania?
BS: Volume 2 is being illustrated right now, with an eye toward a spring 2013 trade release, and I've begun writing Volume 3.
TFAW: Jeremy and Brian, can you describe your experience seeing this comic from the page, to the web page, through Kickstarter, and finally to the published book?
JS: The biggest moment for me was probably the first "walk through" we did of the book with everyone together, when we had all the pages penciled. It was the first time I saw the scope of the book and the quality of the art in one go. After that, I was confident we had something that people would be interested in checking out, and the success and support that's followed has, for me, been incredible.
BS: The whole experience has been awesome — as in, I am in awe of what these guys have done. Everything that we've done thus far — the webcomic, Kickstarter, the published trade — these steps were planned from the beginning. We just didn't know that it would be so well received.
TFAW: Would you recommend Kickstarter to other independent comic book creators?
BS: Absolutely. This was my first crowd-funding campaign, but I had decided soon after the launch of Kickstarter that I would never pay for another creative project out-of-pocket. There's no reason to do so. However, you need to offer something of quality, you need to have some established network of potential supporters, and you need to treat it like a second job. You need to do all three.
JS: Kickstarter is amazing — but Brian is right, it's a full-time job, and one which he spearheaded. My advice is to do your research first, talk to people who've done it successfully, and listen to everything they say.
TFAW: What comics are you reading right now?
JS: Anything Rick Remender writes, Batman, just finished AvX . . . and I'm just now starting to get into Hellblazer, which is an amazing book.
BS: It's a long list for me. I tend to follow writers over artists or characters. Just a sampling in no order — Conan the Barbarian, Manhattan Projects, Casanova, Saga, Prophet, Batman, Inc., Fatale, Winter Soldier, Hawkeye. I've been more of a Marvel than a DC [reader] in recent years, and a lot of their titles are ending before they kick off their NOW! initiative. I'll give many of those books a try.
TFAW: What other types of stories would you like to tell?
BS: We've both been rather keen on crafting an epic space opera. It's a project that is slowly coming to life. When we started on it, there was no Saga, no Prophet, and certainly no promise of new Star Wars films. We were clearly tapping into the zeitgeist. Will there be room for one more amongst that lauded crowd? I'd like to think so.
We want to thank Brian and Jeremy for taking the time to answer all of our questions. Make sure to order your copy of Ultrasylvania now.

ORDER YOUR COPY OF ULTRASYLVANIA NOW
Have you ever contributed to a Kickstarter comic? Are you excited to see more Ultrasylvania? Post your comments below!
Please follow and like us: