Everyone's favorite earnest WWII superhero Steve Rogers (aka Captain America) is coming back to comics and what better opportunity to highlight that than with New Comic Book Day? Marvel's released a terrific issue that's focused front and center on Rogers, starting with him attending a Senate Intelligence hearing about the renewed threat of Hydra to peace loving Americans around the world.
Commander Sharon Carter of SHIELD is in the hot seat, defending the agency for its failure to prevent a Hydra attack in Brussels the previous week. In a sophisticated story turn, SHIELD did stop the Hydra terrorists from blowing up the Chrysler building in New York City, but that wasn't the only thing the nefarious Hydra was planning. Lack of perfection, fallout from their battles to defend innocent people, it's very much the story that propels the splendid new Captain America: Civil War movie, and that's no accident, of course!
Falcon and Eagle show up as part of the SHIELD team, with a great sequence where they try to stop a renegade Hydra driver, and finally there's a surprise appearance at the Intelligence hearing too, as most of the action in the story is told in flashbacks, a very cinematic technique that helps propel this story along at a brisk pace.
The second half of the book is a Spider-Man story called Dead No More, which resurrects Oksana and The Rhino as part of a shadowy plot by, well, someone who doesn't have our best interests at heart, nor those of business owner Peter Parker. It's a fun second story to this free issue and together they're a great pair, well worth picking up!
Oh, and I'm definitely #TeamCap when it comes to the movie too.
Steve Rogers, Captain America: Written by Nick Spencer, art by Jesus Saiz, and The Amazing Spider-Man: Written by Dan Slott, art by Javier Garron.
Review by Dave Taylor.
Q: When did you get interested in comics, and what's the first comic book series you remember really liking?
Like a lot of people, my first exposure as a child to comics were the ones in the newspaper: Bloom County, The Far Side, Calvin and Hobbes, etc. That pretty much lit the fire under me even if I was too young to understand all the political jokes happening in Bloom County. After that, I started finding comics in the local shops. It was the mid-80s so the X-Men were all over the place, so I easily fell into that hole. As I got older, I quickly drifted toward the alternative comics: Beautiful Stories for Ugly Children, Milk & Cheese, Raw, Hate, Eightball, etc.
Q: First published work?
I started doing crudely made 'zine' comics in the late 90s and kinda went from there, learning how to lay out a page and so forth. The my first published comic was Byron by SLG Publishing. That was around 2009. Since then, I've been self publishing most of my work.
Q: What other artists influenced and continue to influence you and your style?
Looking back, Evan Dorkin's work probably had the biggest influence on me. His comics like 'Pirate Corps/Hectic Planet' caused me to start thinking about smaller stories about characters and relationships.
Q: Do you use computers, tablets and software, or are you old-school with pens and a scanner?
Pretty much a mix of both. I create everything with pencils, crowquils, and bristol, scan it into my Mac, and add greyscale electronically to the finished work. I recently started hand lettering my comics and annoyed with myself that I didn't start doing that sooner. Same with hand coloring my work.
Q: What are you reading nowadays?
I just picked up Chester Brown and Noah Van Sciver's new books the other day. Other than that, I've been reading a lot of comic reprints of older comics lately: Little Nemo, Krazy Kat, and the reprints of old EC horror comics from the 50s.
Q: Favorite comic book -> movie adaptation and TV show?
Comic: Maakies by Tony Millionaire
Movie adaption: Bukowski's Barfly film? Does that count? Aside from Tom Waits, Bukowski's work probably had the most affect upon what I'm doing in my comics.
TV Show: Doctor Who. Hands down. Peter Capaldi has been knocking it out of the park. I've been watching the show since was young. Yes like many people, my first Doctor was Tom Baker, though I do have a soft spot for Sylvester McCoy.
Q: Share some of your work: A first pencil sketch to a finished panel. Do you do all your own inking, coloring, and lettering?
Sure. Here is an illustration I recently did that will likely be the cover of my next 30 Miles collection. With this piece, everything was hand done aside from the final coloring. The original for this piece is about 7" x 33". I knew I wanted a large panoramic illustration of one of my favorite sections of Colfax Ave (here in Denver… Once called "The Longest Wickedest Street in America" by Playboy magazine.) I got the size of the piece from taping two pieces of bristol lengthwise together.
Q: What's next for your career?
Continuing to do more 30 Miles of Crazy! (which comes out weekly) and publishing the third collection in the next couple months, more Bootleg comics for the Westword (which is also weekly), getting started on the WW1 story that's been in my head for a couple years, and likely getting some sort of cocktail later. Probably bourbon.
Q: Where were you born, what did you study in college, what are the names of your pets, if you have any, and where do you live now?
I'm originally from Philadelphia, PA, went to school at Temple University, studied photography and history (with art on the side), moved to Boston for several years, and suddenly found myself in Denver, CO for the last couple years. I have have two cats: Cattywhompus and Uisce Beatha. They stalk me for food.
You can find me at Karl Christian Krumpholz.com or on Facebook.
A LONG TIME AGO, IN OUR GALAXY…
To be specific, 65 Million years ago, here on Earth, this first issue of EMPRESS begins with the story of the Earth's FIRST rulers. AS IF having Mark Millar and Stuart Immonen's names on a comic book wouldn't have been enough to get me to pick it up! Then, to further pull me in with gorgeous cover art by Immonen and Dave McCaig, featuring a horned-helmeted noblewoman flanked by two "futuristic" looking masculine figures, all of whom we've never seen before. I'm already sold, of course, and then I read the first two pages, finding that the story begins right here on our little blue planet, only set sixty-five million years ago!!! Tell. Me. More.
It seems, back then, King Morax was quite the fearsome Monarch who sacrificed, in a Roman-style coliseum, his own subjects who even sought to incite disobedience. Such offenders were so afraid of King Morax, in fact, that they chose to face "the monster," rather than the King himself, in battle in front of an enormous stadium filled with spectators. The accused and convicted "criminals" died quickly, which we readers are led to believe was the right choice, as clearly Morax would NOT have been so merciful of opponents.
How is THAT for a comic, and saga, opener?! Well, strap yourselves in, dear readers and comic-lovers, I have a feeling that this is going to get GOOD. You may want to stop, here, and run to your device to order the book, straight away. For those of you not yet convinced, enter the Empress. Unlike the hulking brick-red King (a bit of a cross between Red Hulk and Hellboy, only with long white hair, a goatee, and sci-fi armor), the Queen is a vision of majestic beauty, and we soon find out that she can no longer stand her husband's brutal and megalomaniacal ways.
What does she plan to do about her marriage to a man she can no longer tolerate? With the help of like-minded friends and family, can she leave Morax, and not sacrifice her very life? Dear readers, I'll stop the spoilers here, but do yourself a favor and pick up this first-issue and get yourself on this soon-to-be wild roller-coaster ride. The second half of the book fills our eyes, and our minds, with intense action and a bit of backstory, for clarification, and leaves me champing at the bit to read issue number two!
I knew that creators Millar (Ultimate X-Men, Civil War, Kick-Ass) and Immonen (Action Comics, The Adventures of Superman, Ultimate Spider-Man) would not disappoint. One last thing, in addition, they put in a teaser preview of the Jupiter's Legacy sequel by Frank Quitely, which looks intriguing to say the least.
Words and pictures for the win, my friends.
Empress #1, from Marvel Entertainment. Written by Mark Millar, Art by Stuart Immonen and Sean Murphy. Published April 6, 2016. $11.69.
Review by Steve Oatney.
Meet Oddly Normal, a millennial pre-teen with a sarcastic sense of humor. With a name like Oddly, she struggles to fit in, find friends and enjoy her school days. This fish out of water struggles with green hair and pointed ears not to mention a mother happens to be a witch.
Poor Oddly has spent her life trying to fit in with her peers, deal with her self indulged parents and balance the oddity of being part witch.
So naturally on her 10th Birthday when no one shows up to her party and her parents are too oblivious to care, she makes a wish. Where that wish takes her and what adventures she discovers will be revealed as we learn more about Oddly in the issues to follow.
Otis Frampton has done a tremendous job capturing Oddly's millennial angst with clever writing and cartoonist art. This book for all ages will appeal to pre-teens and parents alike as it is a reminder that children coming into their own need be heard.
As a father of 2 girls, I catch myself wondering if I really listen to them and address their feelings. Reminiscent of Tom Hank's Big, this story draws on my own childhood and those wishes children make to be "Big" or teach their parents a lesson.
I'm looking forward to where Frampton goes with Oddly. I'm sure she is going to have to learn some tough lessons as a result of her wish, but sometimes those lessons teach us the most about who we are, who we love and most importantly who loves us.
Oddly Normal is a New Comic Book Day must read for any family with pre-teens struggling to connect because of busy lives and crazy happenings.
Review by Luke Howell.
New week, new comics. For this New Comic Book Day we get Punished twice, go into the future with Valiant, a cat gives us a little present, and the Flash goes head strong into issue #51. As always these are only a select set of new releases that stood out from the crowd. Check out our other blog articles so see our thoughts on other books. Be sure to comment or share our post on Facebook or Twitter if you like our articles!
SPOILER ALERT — We try to keep from posting spoilers, but one may sneak through to our reviews now and again. Read with caution, true believers.

Punisher #1
By: Becky Cloonan, Steve Dillon, Declan Shalvey
It's finally here the book that you've been waiting for! In the midst of all the crazy alien invasions and huge battles going on with the Avengers, there's still street gangs and drug runners slipping through the cracks. Pushing weapons onto the streets and a new drug that makes anyone an unstoppable killing machine. The police can only do so much without crossing over the line. Who will inflict the justice that is sorely in need? Frank Castle "The Punisher"! He is judge, jury and executioner against all injustice in the streets of New York and will not stop until justice is served. In this breakout issue Frank runs into a ghost from his past that will change the course of things to come.
Becky Cloonan (Demo and Southern Cross) picks up were Iconic writers Garth Ennis and Jason Aaron left off with Steve Dillon (Preacher, Hellblazer, Punisher Max). This is a perfect Punisher books with a fresh take from an incredible team. [Steve at Milwaukie TFAW]
4001 A.D. #1
By: Matt Kindt, Clayton Crain
New Japan is a group of sectors that hovers in Earth's orbit, an actual satellite nation, in the future. The A.I. construct who controls the functions and populace of this seeming utopia is called Father, whose champion is known as Rai, who has been jettisoned back down to the Earth. This series jumps right in without requiring any previous investment in the Valiant universe. The artwork is glorious, as you'd expect from Clayton Crain and David Mack, while the tapestry is designed by the phenomenal mind of Matt Kindt.
Valiant are inclined to keep you wanting more, as their events are typically only 4 issues long, as this is. If you thirst for more, you can read the additional tie-ins (bringing the entire saga to only 12 issues, with checklist printed on the back of the issue) to fill your craving for this futuristic amazement! If that doesn't wet your appetite, check out Rai , X-O Manowar , and Eternal Warrior , all of whom you will glimpse in 4001 A.D. This series already subtly examines the consequences that are linked to heroic actions, and further develops an interesting and new view of the fallout, from when a hero has already made a noble sacrifice. This one is a trip worth taking! [Casey D. at TFAW.com]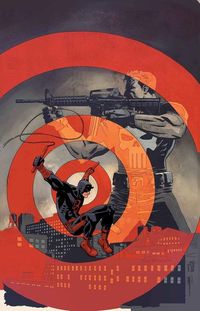 Daredevil/Punisher #1
By: Charles Soule, Szymon Kudranski, Reilly Brown
Netflix's Daredevil series introduced the MCU, and the world to Frank Castle aka The Punisher. It's only fitting that we get another taste of that Daredevil vs Punisher story. Taking from Charles Soule's current series, Daredevil has help from his partner, Blindspot. Let's be honest here, he's going to need it.
As Matt Murdock gets ready for a prisoner transport of a Russian Mobster, Frank does his best to punish. Now Daredevil and Punisher have a score to settle. Pitting them against each other, and the Russian Mob. But how does Blindspot react when he's introduced to the "hero" that is The Punisher? [Martin M. at TFAW.com]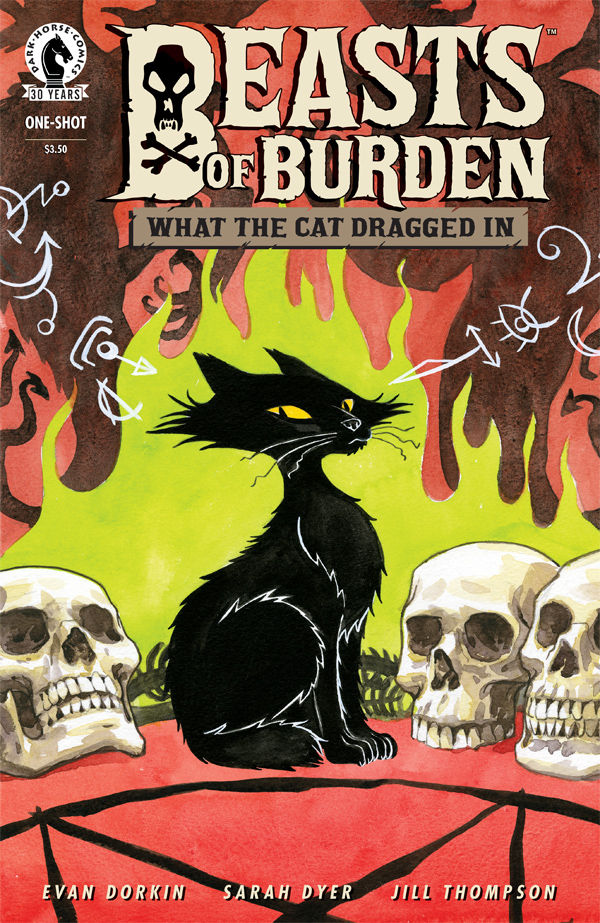 Beasts of Burden: What the Cat Dragged In
By: Evan Dorkin, Sarah Dyer, Jill Thompson
In this One-Shot issue the newest member to the Beasts of Burden comes under scrutiny for their past. Dymphna a familiar, has kept secrets from her group. They intend to find out what she's been keeping from them. It's safe to say, it's more than they asked for!
Beast of Burden has been and still is a fantastic series. Evan Dorkin and Sarah Dyer are fantastic in this series. The fun and creepiness is there, with relatable characters, even though they're all animals.
Jill Thompson paints her heart out on every page. It' beautiful to look at. She does this great job with cat reactions in this issue. I can see my cats doing the exact same movement and jumps as we find out friends going on their adventure.
If you like supernatural tales or want a series that only involves animals. Than this "Homeward Bound" meets Constantine is the series for you! [Martin M. at TFAW.com]
What did you think of these books? What should we review next week? Let us know below!