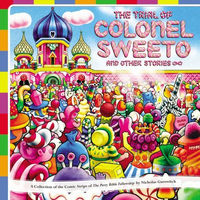 I can't even begin to explain how much I love this book. Nicholas Gurewitch's strip has been around for years and I happened upon it recently when Dark Horse published The Trial of Colonel Sweeto and Other Stories.
I feel ashamed not having heard of the series, but that shame is outweighed by the elation I feel when I read this book. I've read it at least four times cover to cover and I can't help but laugh out loud each time. You've gotta check out the Perry Bible Fellowship Online and then you'll know what's up.
Gurewitch recently came to Portland to do a signing and I got the chance to meet him. He was a really nice guy. Down to earth, friendly and funny as hell. I bought one of his prints called "Astronaut Fall" and it's framed and up in my cube here at work. I'm a big fan of his humor and I'm really looking forward to the release of The Perry Bible Fellowship Almanack HC which will reportedly contain all of the PBF strips to date. Definitely something to keep your eye out for.
Here's a preview of the kind of stuff you'll find at Nick's site and in the book:

Please follow and like us: