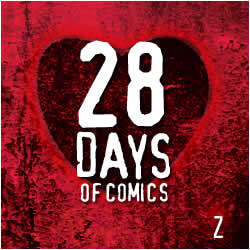 Zowie! Don't tell me that we're almost at the end of our zippy 28 Days of Comics sale! We're on day "Z," which means one thing–Zombie Tales! Okay, it also means titles like Zen Intergalactic Ninja, Zombies vs. Robots vs. Amazons, and Zero G are 28% off!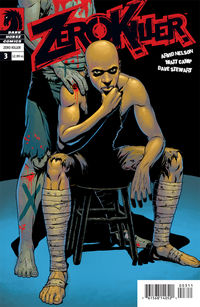 One "Z" title that caught my eye this week is Zero Killer. Written by Arvid Nelson, the creator of Rex Mundi, with art by Matt Camp, this series takes place in the future, after a nuclear war leaves most of the world underwater–and the survivors are willing to do whatever it takes to stay alive!
Zero Killer's a bounty hunter with a mysterious mission. What it is, we never quite know, because . . . issue #4 was never printed! However, this is still a wonderfully written and drawn series, and you can preview each issue before you buy.
Listen, readers–just because we've reached day "Z," it doesn't mean our 28 Days of Comics sale is over! Be sure to come back tomorrow for a very special grand finale to this awesome sale. In the meantime, what "Z" title is your favorite? And how many zombie titles do we have, anyway? Post below!
Please follow and like us: