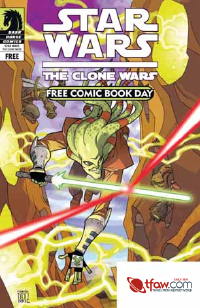 If you've been into comics for awhile, you know that the first Saturday in May is a very special day.
It's hard to believe that Free Comic Book Day (FCBD) is less than a week away! FCBD is about introducing people to new comics and showing kids that reading can be fun.
We're excited to announce that we'll be including THREE FREE COMICS with every in-stock order this weekend starting at 12:01 AM (PST) on Saturday. We'll only slip these free comics in with your order while supplies last, though, so it's first come, first served.
First up, we've got Star Wars: Clone Wars, which will be included with every order. This is a special issue featuring the greatest heroes of the Clone Wars, plus Emily the Strange, Usagi Yojimbo, and other all-ages favorites!
Then, we'll randomly pack either Blackest Night #0 or The Avengers. Please keep in mind that we won't be able to take requests for specific issues.
In Blackest Night, DC Comics will debut the prelude to Blackest Night, which stands to be the biggest comics event of 2009! The issue also features an introductory text page that sets the stage for new readers.
The issue includes a lead story that leads directly into Blackest Night #1, as well as a special guide to the various Corps that have recently emerged as forces in the world of Green Lantern.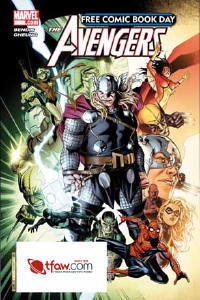 In The Avengers, the mighty Thor and both the New and Dark Avengers join forces against the frost-giant Ymir in a battle that will have terrifying consequences for the Marvel Universe–and for these heroes–in the days to come!
Top-flight creators Brian Michael Bendis and Jim Cheung combine talents to bring you an absolutely essential all-new touchstone story for what's coming up in the Marvel Universe!
Also included with every order is Aliens/Predator. In the next few months, we'll see the re-launch of two of the quintessential Dark Horse movie-to-comics franchises–the Fox blockbusters Aliens and Predator!
Featuring a flip-book format with two covers and two stories–each devoted to one of mankind's deadliest adversaries–the FCBD Aliens/Predator comic opens the airlock to a new universe of terror!
FCBD 2009 is going to be a great one!
Excited about one or more of these books? Let us know below!
Please follow and like us: