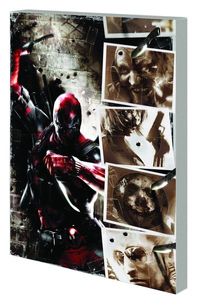 Daniel from Lake Jackson, TX wrote a bunch of great reviews, one of which was for the Dark Reign: Deadpool Thunderbolts TPB (pictured here). All of his reviews were well written and will help other like-minded comics fans decide if they want to jump aboard the Deadpool train. We're sending Daniel a Super Hero Squad 4-Pack that features the Crimson Comedian and a $15 gift certificate.
Dean from Dublin, Ireland wrote a couple of quick reviews for Dark Avengers #4 and Captain Marvel #5. Dean's reviews demonstrate that product reviews don't have to be lengthy to be helpful. We're sending Dean a $35 gift certificate to thank him for his reviews.
Finally, we've got Lindsay, who wrote reviews for the Lenore PVC Set and a Buffy Action Figure. We appreciate her taking time to write two very helpful reviews. We're sending a Lenore Vinyl Figure and a $10 gift certificate to Massachusetts c/o Lindsay!
Thank you to everybody who submitted product reviews last month and congratulations to the winners. You should receive your prizes very soon!
Please follow and like us: