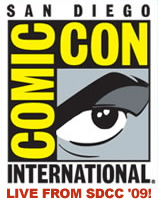 New Video Posts From San Diego Comic-Con!
Movie time! Mike Richardson brings representatives from Dark Horse Entertainment to the stage to talk about the Umbrella Academy movie, as well as new films for Kurosagi Corpse Delivery Service, Criminal Macabre, Freaks of the Heartland, and The Secret:
This one is short but very sweet for Whedon fans: Senior Managing Editor Scott Allie announces new Serenity comics, written by Patton Oswalt and starring the character, Wash:

CLICK TO SEE ALL SDCC '09 BLOG POSTINGS!
Questions? Comments? Post them below!
Please follow and like us: