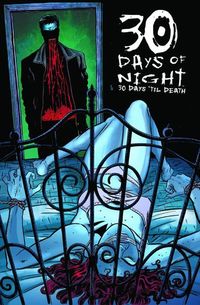 The popular series 30 Days of Night gets a new twist with 30 Days Til Death–David Lapham, the Eisner Award-winning creator of Stray Bullets, climbs aboard for a frightening yet hilarious tale of vampires against vampires.
The story starts out focusing on Rufus, a would-be everyman . . . who just happens to be a vampire. Who just happens to have an entire coven of "old school" vampires out for his blood. These older vampires aren't fond of the "new generation"–they consider them the ultimate annoying hipsters. To keep a low profile, Rufus is forced to take refuge in . . . Buffalo, New York? There he deals with relationship problems, being nice to his neighbors, and oh yeah–not being caught out as a blood-sucking fiend. The PTA doesn't look fondly on that type of activity.
Check out the 30 Days Of Night: 30 Days Til Death TPB, available now for $16.19, and make sure to check out the rest of our 30 Days of Night comics and graphic novels to get your horror fix this month!
Please follow and like us: