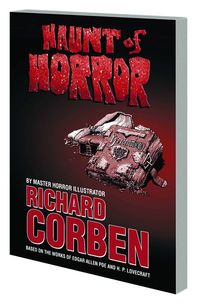 With a name like that, it's gotta be one of the featured books this month!
Haunt of Horror presents a collection of classic tales re-imagined by legendary horror artist Richard Corben.
First, it's Edgar Allan Poe as you've never seen him before. Classic Poe stories and poems are transformed into weird and disturbing new comic-book fantasies, with the original Poe texts printed alongside the new tales as an added bonus. It's a frightening new presentation of Poe-inspired murder, madness and monstrosities!
Then, Corben brings you a bold new interpretation full of eerie new spins on the poems and short stories of H.P. Lovecraft. Each adaptation is beautifully rendered in black and white with gray tones as only Corben can do it – along with a printing of the original source text by H.P. Lovecraft.
Not too shabby, right? Want more? How about picking it up for just $20? Done. Today only, and while supplies last, you can pick up a copy for $20 bucks.
Check out other cool horror stuff on our Horror Month page.
Please follow and like us: