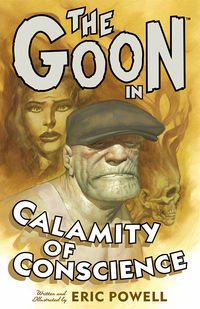 On this next-to-last day of Horror Month, we bring you something a little different: The Goon Volume 9: Calamity of Conscience TPB. For those of you not yet acquainted with The Goon, it's kind of a horror book mixed with The Little Rascals. And a Bob Hope road movie. And . . . well, it's a little difficult to put my finger on, but it's funny, tragic, horrific, and great fun to read.
Multiple Eisner Award-winning creator of The Goon Eric Powell teams with acclaimed colorist Dave Stewart to bring this tale of humor, horror, and heartbreak to a close. Prepare for the usual weirdness, as only Powell and The Goon can provide: the living dead (children, priests, and pretty ladies), pretty living ladies, gypsies, backwoods children . . . "dogs" . . . crazy-weird cats, pimps peddling animal love, animals on the receiving end of said animal love . . . evil Shredded-Wheat men, more evil-undead burlesque-house owners, guys with tails, a woky (a woky?) . . . and more!
You can order The Goon Volume 9: Calamity of Conscience TPB now for $14.35, and make sure to check out our Horror Month page for most ghastly gifts!
Questions? Comments? We'd like to hear from you!
Please follow and like us: