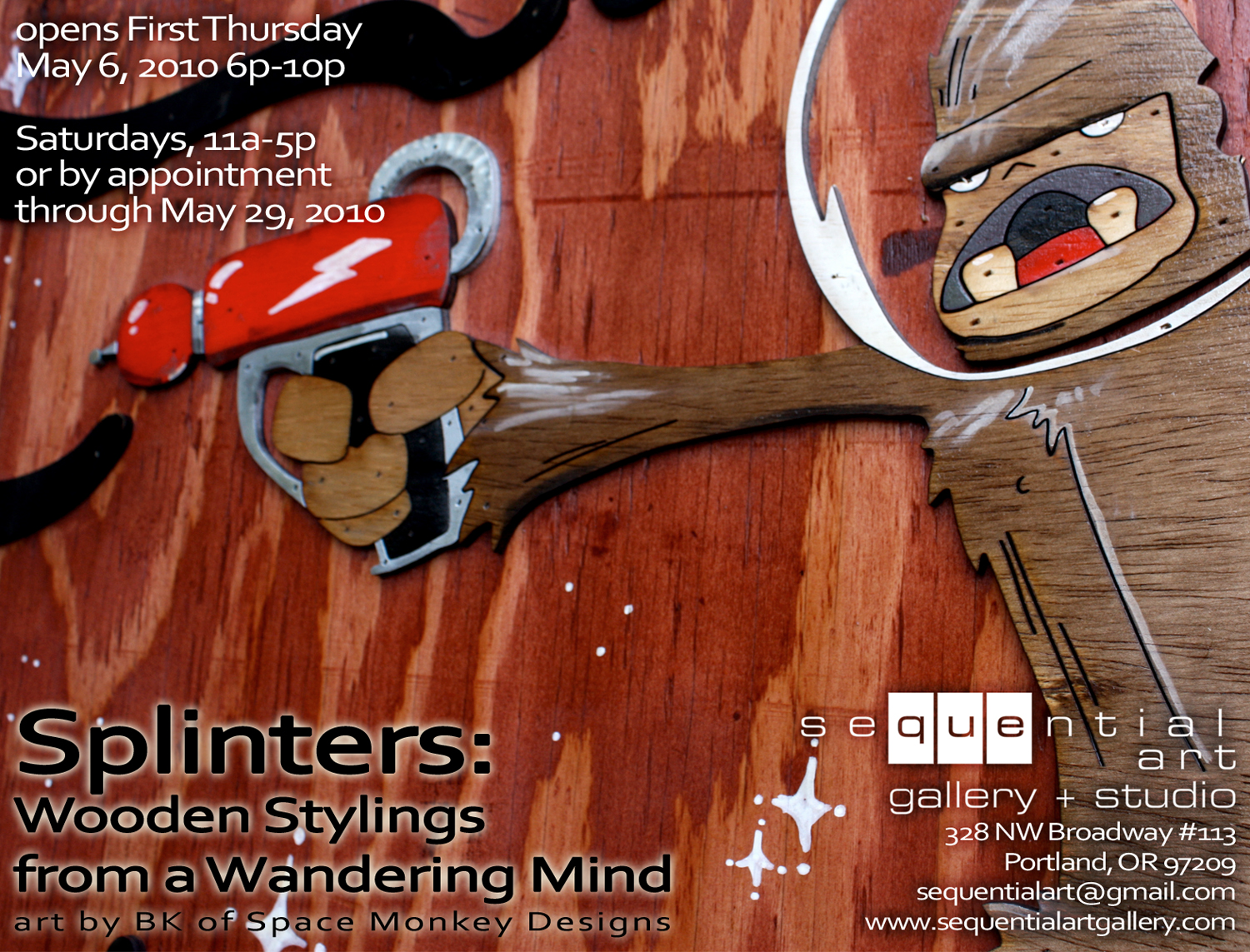 Sequential Art Gallery's new show might be lacking in May flowers, but it does feature a lot of natural materials! Artist Brian Kappel works mainly in wood, either building small robots out of blocks or creating intricately inlaid large pieces of wall art.
Opens: First Thursday, May 6, 6pm-10pm
Runs: Every Saturday in May, 11am-5pm, or by appointment
Closes: Saturday, May 29
Much of Brian's work utilizes vibrant stains and glazes instead of opaque paints, allowing the grain of his medium to show through and create rich textures within the art. The show will feature a number of these large format pieces, as well as some smaller works and design art, and opens during May's First Thursday art walk downtown.
Brian graduated with a degree in Visual Arts from Penn State University. Soon thereafter, he saved the day, beat the bad guy, and got the girl, just like in his favorite comics (truth be told, he only got the girl, but couldn't be happier). His business, Space Monkey Designs, works with everyone from small companies just starting out to Fortune 500 companies. Through Space Monkey, Brian works with his local elementary school's art literature program in an attempt to try and excite the next generation of artists, the way his teachers sparked the fire and set him on the path that he is on today.
Sequential Art Gallery + Studio is located in Old Town Chinatown at the Everett Station Lofts, 328 NW Broadway #113. Open for regular gallery hours and gaming every Saturday (11am-5pm) or by appointment. The gallery showcases local artists who explore the concept of sequential art, which is loosely defined as using consecutive images to tell a story. Curated by Kaebel JK Hashitani and Merrick Monroe.
Have you been to Sequential Art Gallery + Studio before? Any other comics-related First Thursday outings on your agenda this week? Post them below!
Please follow and like us: