New Reviews of This Week's Releases!
This is a very special edition of Wednesday New Releases: one of our awesome staffers has taken it upon himself to make us look better by adding graphics! Be sure to check it out and let us know what you think–we hope you like it! This week, we review True Blood #3, 1 for $1: Serenity: Those Left Behind, 1 for $1: Umbrella Academy: Apocalypse Suite #1, Aliens vs. Predator: Three World War #6, Birds of Prey #5, Brightest Day #10, Deadpool Merc With a Mouth Head Trip HC, Halo Fall of Reach Boot Camp #1, Love & Rockets New Stories TPB Vol. 3, Thor First Thunder #1, X-23 #1, and the Supergirl: Death in the Family TPB.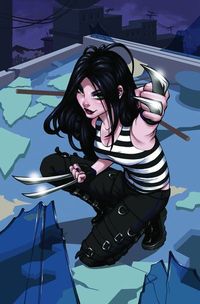 CHECK OUT THIS WEEK'S ARRIVALS

SUBSCRIBE TO OUR YOUTUBE CHANNEL
Questions? Comments? Post them below!
Please follow and like us: