We Interview Hulk's Jeff Parker!
Because we are fortunate enough to be located near Portland, Oregon, we are lucky enough to have Periscope Studio, an amazing collective of comic book talent, right in our backyard! So when we heard that one of our favorite writers, Jeff Parker (Atlas, Underground), was taking over Hulk this week with issue #25, we dropped by for a visit to talk to him about it. Besides telling us that Hulk is now going to feature "Sharing, and love, and understanding," (yeah right!) he also assured us that there will be plenty of smashing, and that Red Hulk is going to have a hard time getting along with his new mission partners–namely, Iron Man and Thor!
Parker also talked to us about the end of his amazing Atlas series and how Man-Thing is fitting into Thunderbolts. Plus, Jeremy Barlow (Metalocalypse/Dethklok) and Dustin Weaver (S.H.I.E.L.D.) make guest appearances. Because they're working right near our interview. Because Periscope is literally packed with talent, which brings me back to us being very lucky. But enough about us–watch the interview!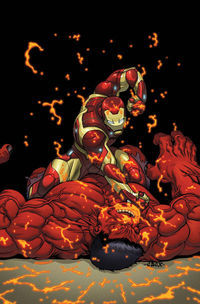 BROWSE JEFF PARKER'S COMICS AND GRAPHIC NOVELS

SUBSCRIBE TO OUR YOUTUBE CHANNEL
Questions? Comments? Post them below!
Please follow and like us: