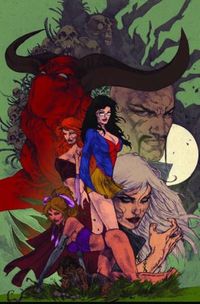 Editor-in-chief Ralph Tedesco kicks off Zenescope Month here at TFAW.com, with an in-depth interview about the evolution of this independent publisher and where they're planning to go next! Of course, in addition to his editorial duties, Tedesco is also one of Zenescope's most prolific writers, penning spellbinding stories for Grimm Fairy Tales, Grimm Fairy Tales: Inferno, Tales From Wonderland, Stingers, and more, so we pressed him for the inside scoop.
Read on to learn about how Tedesco founded Zenescope, where he gets his inspiration for those dark and sexy tales, and what's coming up next!
TFAW.com: Hi Ralph, thanks for talking with us about Zenescope!
Ralph Tedesco: Thanks for having me.
TFAW.com: What made you decide to co-found a comic book publisher?
RT: I was living in Los Angeles working as a bartender and I was also an aspiring actor getting some work here and there . . . not cliche at all, right? I also was a screenwriter, but thinking anyone wanted to read my spec screenplay was pretty much a joke. So one night while I was visiting back home in Philly, Joe (my writing partner and now business partner) and I brainstormed some ideas and one of them was to publish our own comic book series. We really had no idea what we were getting ourselves into at the time, but it sort of took on a life of its own and we expanded from there.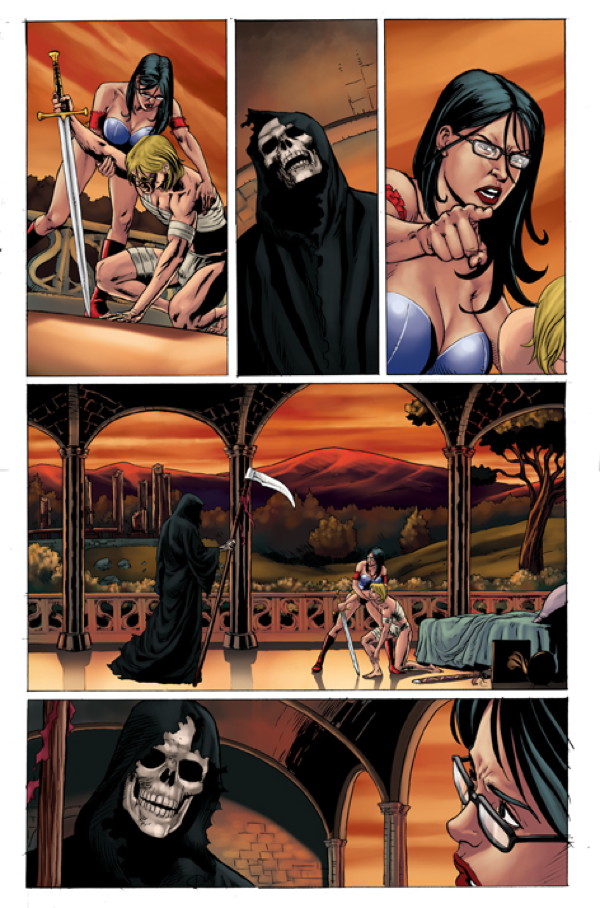 TFAW.com: What were your thoughts on what Zenescope should be, as a company?
RT: We definitely wanted to be that dark, edgy, provocative company that distinguished itself in a new and refreshing way. We simply didn't want to be like any other publisher out there at the time. Now we weren't going out year one to try to compete with Marvel or DC or Dark Horse, but we felt we could nudge into the top 10 indies if we stuck to what we believed and we ran the company using our competitive nature.
TFAW.com: What do you think makes Zenescope stand out from the other companies–besides the eye-popping covers, of course!
RT: Definitely our ability to think outside the box and also our willingness to take risks. Joe and I feel we have a pretty good knack for coming up with intriguing storylines and also for good storytelling, but we never want to box ourselves in. We're not afraid to swing for the fences occasionally, even if it means striking out sometimes too.
TFAW.com: As Editor-in-Chief, what are your biggest challenges?
RT: It's the endless juggling act that is editing and organizing art teams and writers, etc. It's a more than a full-time job in and of itself, but throw in the writing I do and other responsibilities Joe and I both have and it adds up to a ton of hours in the office each week. But in the end it's certainly worth it.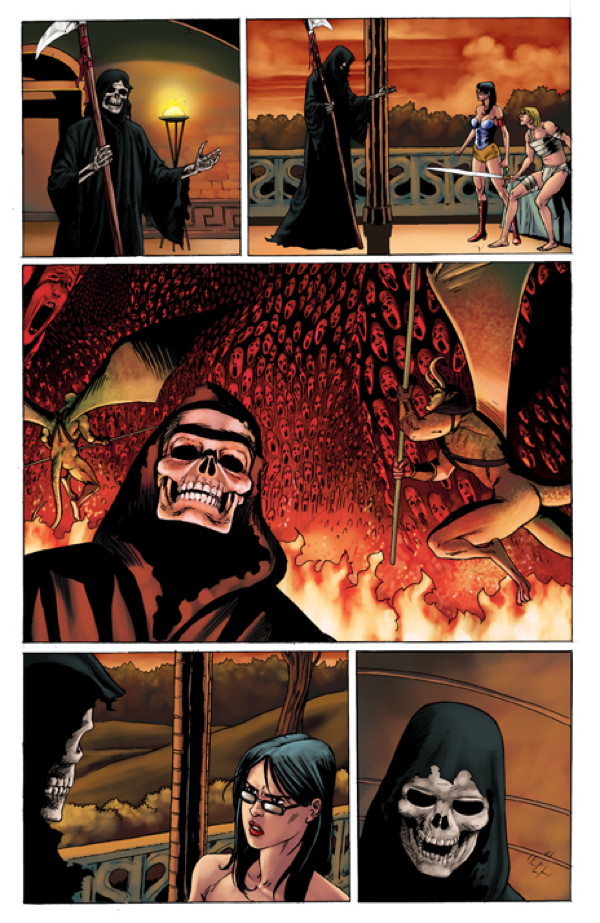 TFAW.com: Grimm Fairy Tales just released its 50th issue! How do you feel the series has evolved over its run?
RT: It's night and day in some ways, but then it's also kept elements of what we loved about it in the beginning. It went from a series of morality tales and stand-alones with Sela, our main character, acting as sort of the "cryptkeeper," and then it began to evolve into this huge universe with multiple subplots and an ever-expanding laundry list of new and interesting characters, both good and evil.
We always planned it as an epic series from which we'd spin off into other series, but it definitely took on a life of its own as we went ahead, and the pieces just seemed to fit. We're proud of how the series has matured and continues to evolve. You need that in order to keep readers on their toes, or otherwise it would get stale.
TFAW.com: Sela seemed to have a crisis of faith in issue 50, not sure if she wants to be involved in the fight against evil, and now she's been forced to kill Nissa. Is she going to walk away, or will this make her fight harder?
RT: My thought is she'll pack up and take a long vacation in Cabo, but I don't think Joe would agree . . . hahah. Actually, you need to wait and see, because there will be some very cool twists coming.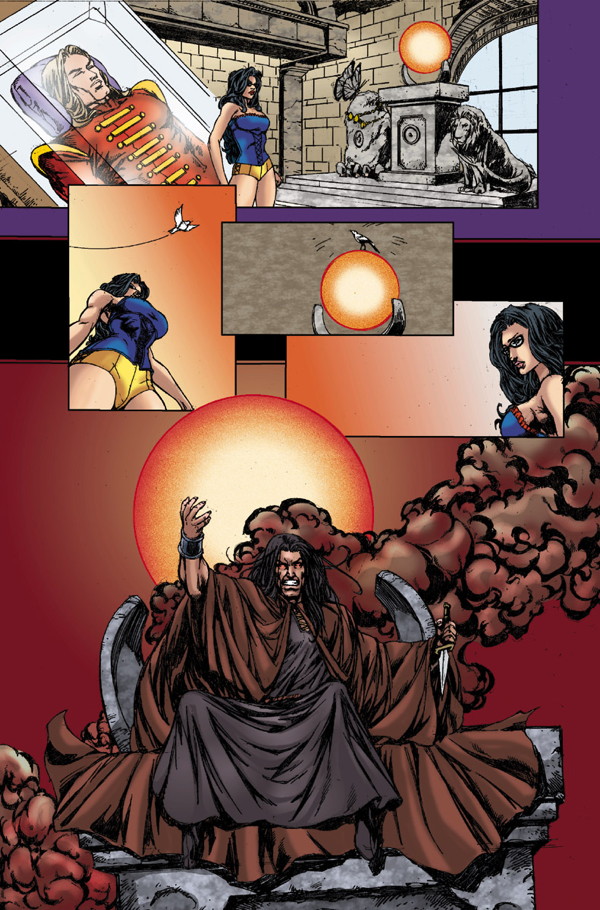 TFAW.com: So many of the stories in Grimm Fairy Tales are morality tales–it reminds me of old Creepy and Eerie stories. Are you a fan of older horror? What are your other inspirations?
RT: For this series it definitely and without a doubt was the Twilight Zone. That was one of my favorite shows growing up. I would watch the old black-and-white episodes with my mom when I was little and was obssessed with them. I was also hooked on Amazing Stories, which didn't last that long, and then of course Tales from the Crypt.
TFAW.com: You're also writing Grimm Fairy Tales: Inferno, described as "Jacob's Ladder meets The Long Kiss Goodnight,"–which is a concept I love. It's a little rougher and has more of a traditional action feel–what made you want to write it?
RT: The idea of a character who yearns for redemption and gets a second chance by having to literally fight through hell just intrigued me. Add in the fact that she's a badass, sexy contract killer who is ready to kick demon ass, and I'm all in. I just loved the character and her strength and really wanted to explore her vulnerability and her reason for doing the horrible things she did.
TFAW.com: A lot of your tales involve good struggling against evil and people getting their just desserts–why do these motifs resonate so strongly with you?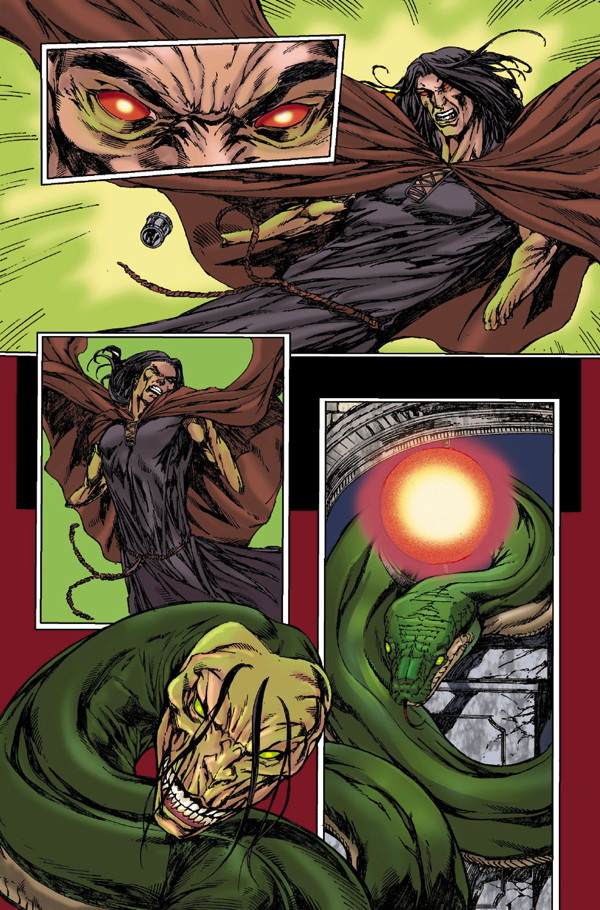 RT: I really like the idea of karma. I'm not so sure I believe in karma very strongly, but the idea is intriguing to me. People getting what they deserve is a cool premise. But I also do like the idea of people getting second chances as well, so that's why I like redemption tales so much.
TFAW.com: Your supernatural-alien adventure series, Stingers, is being collected in November. What was your favorite part about working on this project?
RT: It was so much fun to create the world. I really loved the idea of this character who despises humanity being thrust into the role of saving the human race before an alien takeover occurs. I simply love anti-heroes, they're the best characters to write . . . there I go with the redemption stories again.
TFAW.com: You often collaborate with writer Joe Brusha. What does your working relationship look like?
RT: He yells alot, then cries, then sulks then lets me write what I want . . .. hahah no, we've been friends for 20 years and we've been writing together for 15. We have a very symbiotic relationship when it comes to writing, and we know each other's styles so well that we are able to help each other out, and we both are good at helping the other break through the occasional (or not so occasional) writer's block.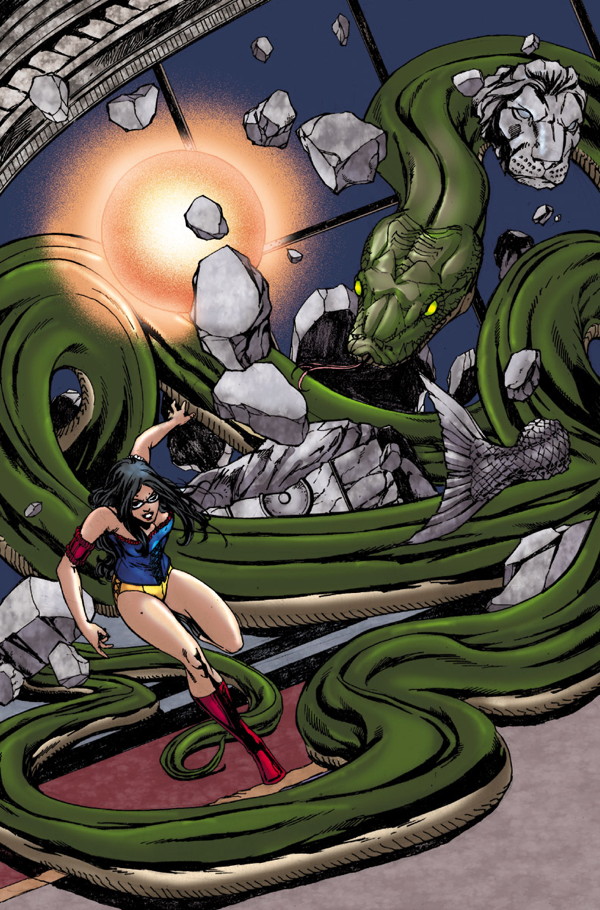 TFAW.com: What other types of projects do you want to be working on?
RT: I definitely want to do some comedy series. It's what we wrote a lot of when Joe and I were first writing screenplays, and I know we both have a knack for it. Comedy is a tougher sell in comics, so it has to make sense and it needs to be done right, but I know we'll be doing something comedic in nature in the near future.
TFAW.com: What's coming up for Zenescope that you're most excited about?
RT: The Monster Hunters' Survival Guide is something I'm so looking forward to. It's a four-issue mini-series guide with illustrations teaching people how to survive various monster attacks as well as how to hunt monsters while also debunking some common monster myths. It's really got everything.
Working with the writer of the series and self-proclaimed expert monster hunter, JP Russ, has made this project worth doing even prior to its release. Issue #1 is going to hook a lot of people into this series. If you're into vampires, zombies, werewolves, unnatural beasts, cryptids, or any other type of monsters, then this is the book to read.
TFAW.com: Where do you see Zenescope in five or ten years?
RT: A consistent top-five publisher with all of the same loyal fans that started with us from the beginning, and a bunch of new ones that just caught on a little late but who we'll love unconditionally nonetheless. How's that?
Thanks again, Ralph! Like what you read? Make sure to visit our Zenescope Month page and save 10-20% off all Zenescope comics and graphic. We'll also be running some contests later this month, so stay tuned!
Are you a fan of Zenescope? What's your favorite title? Post your comments below!
Please follow and like us: