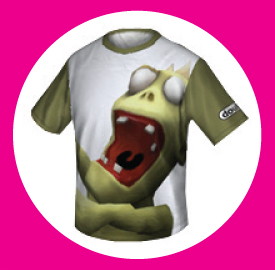 Just months after the launch of their first vinyl figure, our friends at RAJE Toys are stoked to announce their first licensing collaboration. RAJE, co-founded by Eddie Deighton, one of the minds behind British comic publishing company Com.x, will be releasing figures based on the characters from the incredibly awesome doublesix game Burn, Zombie Burn!
Do you love playing Burn, Zombie Burn! on the PS3? Now you can get a free Burn, Zombie Burn! virtual t-shirt for your avatar from RAJE and doublesix with a special voucher code, good at the PlayStation®Store! Just use the following code to get your free digital download now:
MKJ8-53N5-6AJF
This offer was previously given out at NYCC, but thanks to our massive online presence (and awesome customers), RAJE and doublesix have decided that TFAW.com should be the first to offer this code online! This offer is for a limited time only and is limited to 9,999 redemptions, so hurry to the PlayStation®Store now. The code applies to both the men's and women's version of this virtual shirt!
This special offer is brought to you by RAJE Toys and doublesix, and fulfilled through the PlayStation®Store, not TFAW.com. However, we fully support lighting zombies on fire, bludgeoning them, or otherwise bringing them massive bodily harm, so we are more than happy to spread the word!
What are you waiting for? Use code MKJ8-53N5-6AJF now at the PlayStation®Store.
Have you played Burn, Zombie Burn! yet? Are you looking forward to the new vinyl figures? Post your comments below!
Please follow and like us: