New Reviews of This Week's Releases!
Happy Halloween! In honor of the upcoming holiday, we dressed up for this week's comic book reviews–you'll have to watch the video below to see our costumes, however! This week we review Superman: Earth One, Beasts of Burden/Hellboy, Bruce Wayne: The Road Home Ras Al Gul, Bruce Wayne: The Road Home Oracle, Avengers #6, Action Comics #894, Incognito: Bad Influences #1, Fantastic Four #584, Grimm Fairy Tales Halloween Special 2010, Mini Star Wars Monster Mashups, and the Dexter Bust.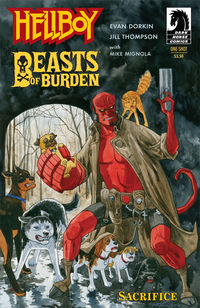 CHECK OUT THIS WEEK'S ARRIVALS

SUBSCRIBE TO OUR YOUTUBE CHANNEL
So, how'd you like our costumes? What are you dressing up as this year? Post your ideas below!
Please follow and like us: