I can't believe how many great product reviews we got last month. It was really difficult picking three winners for our Product Review Contest. This month, we're sending out $25 TFAW gift certificates to the following winners: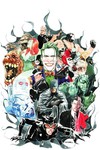 Joseph from New York reviewed Batman 80 Page Giant 2010 #1. Here's what he had to say:
I found most of the stories to be fairly underwhelming, with the exception of a rather creative vignette written by Sean Ryan and drawn by Joe Suitor and a quite delightfully sinister Joker story by Peter Miriani and Szymon Kudranski, which is in my opinion the highlight of the book. Which is not to say the other little tales are bad, all centering on slices of the lives of various villains, but they also strike me as fairly forgettable. Still, if you love seeing the Joker throw blood on the fourth wall you'll have reason to pick up this issue.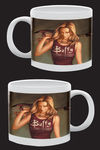 Margaret from New Hampshire wrote a helpful review for the Buffy The Vampire Slayer: Buffy Art Mug:
I bought 3 of these for Christmas presents (big Buffy fans around here). When I was wrapping the mugs, I noticed on the bottom of the mugs that they are not microwave safe or dishwasher safe. Since most people use both, I'm recommending they do not use these and just display them. I wish you would have disclosed this on the website. It would have influenced my buying decision.
Margaret's review prompted us to contact the manufacturer regarding the microwave/dishwasher safety warning on the bottom of the mug. It turns out that the message was the result of an error at the manufacturing facility and we have been assured that the mugs can be used in the microwave and washed in the dishwasher. Just goes to show you that your reviews are being read and that we care very much about what you have to say.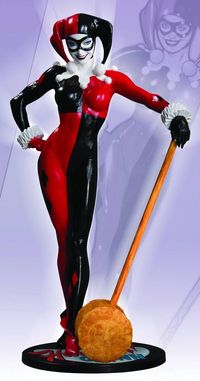 Last, but not least, there's Daniel from our very own Portland, Oregon who captured our attention with his terrific review of the Cover Girls Of The DCU Harley Quinn Statue. Here's what he had to say:
I have every Cover Girls of the DCU since they've been coming out, and this is just another wonderful piece to add to the collection. The sculpting and paiting is actualy superb. Would definetly recommend to anyone a fan of the DCU or Adam Hughes.
We want to thank all our customers for their product reviews last month. Good luck to you all for next month's contest. Get those reviews in, you just may be next month's winner! As always, we're choosing our product reviews carefully. Please don't submit duplicate reviews or submissions from other merchant websites. You don't have to like the product to snag a winning review, so feel free to rant or gush.
So submit your reviews and help your fellow collectors, and us, sort out the "HOT" from the "NOT"! Who knows, you may be one of next month's winners.
HOW TO SUBMIT A PRODUCT REVIEW:
It's simple! Just visit any product page and look for this:
Click on it and our product review form will appear in a popup. Just fill out the pertinent information and submit your review, and you're done! We'll take a look at your review and get it up on the product page soon thereafter!
There's also a really easy way for you to call up everything you've ever ordered from us and review it. Simply log in to your account and go into the Order History Section. Next to each item, you'll see a "Review it!" link.
Questions? Comments? Let us know below!
Please follow and like us: