There are a lot of reasons to start up a comic book subscription at TFAW.com. One of the best reasons is that subscription matches for this month will be 30% off!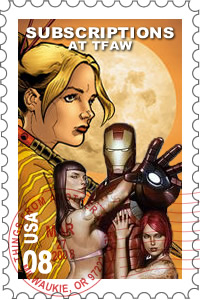 1) Price-You'll save 20% off the cover price on all your subscriptions. That's money you can use towards food, or rent, or more comics. You're basically getting two free issues a year for each monthly series you subscribe to.*
*Math: $2.99 x 20% = $0.60. $0.60 x 5 issues (@ $2.99) = $3.00 (or 1 $2.99 comic every sixth issue).
2) Guarantee your copy-Ever walk into a comic book shop to find that they just sold the last copy of the book you went there to pick up? Yeah, that won't happen again. Gone are the days you resort to an eBayer to fill the gaps in your series.
3) Never forget an issue again-If you're like me, you forget things from time to time. With so many great comics coming out each month, it's hard for even the most avid comics reader to remember every issue they wanted to pick up. Set up your subscription once and it'll be in there until you're old and gray, my friend. (Or until they retcon the character or bring in a new creative team and you decide it's not for you anymore).
4) Comics come to you now-You don't have to brave the elements to get your comics. No longer do residents of Phoenix have to go out in 113° heat to get their copy of Detective Comics featuring Mr. Freeze. Nor do folks from New York City have to trek 12 blocks in the snow to find out which Fantastic Four character just died. We'll do the work: carefully pack up your comics, and ship 'em to your door.
Our subscription service can be as simple or complex as you want it to be. Subscribe by series that we've set up, or use our "Keyword" subscription and be sure to pick up mini-series, one-shots and other pesky issues you can't live without. Spiffy, huh?
I want you to take five minutes to read over our Subscriptions page. The time it takes to figure out our subscription system and set up your subscriptions will far outweigh you searching through TFAW each week/month for your favorite titles. We've got a handy walkthrough set up so you can see how easy it is to get your subscriptions started. As always, we're available via Live Chat (M-F 9AM-5PM PST) to help troubleshoot any problems you encounter along the way.
BONUS: Sign up for a subscription by 2/23/11 and your first matches will be 30% off (FEB11 comics)!

CHECK OUT OUR SUBSCRIPTIONS WALKTHROUGH

LOGIN TO YOUR ACCOUNT & SET UP A SUBSCRIPTION
Please follow and like us: