We received almost 300 product reviews last month! It took some effort to pick just three winners for our Product Review Contest. This month, we're sending out $30 TFAW gift certificates to the following winners: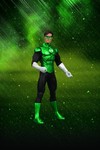 Larry from Oregon reviewed the Blackest Night Series 6 Green Lantern Hal Jordan Action Figure. Here's his take on it:
Probably the best action figure of Hal Jordan's Green Lantern I've seen. Looks great next to Sinestro from the same series.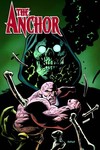 Luke, also from Oregon had this to say about Anchor Vol. 02 TPB:
Bring the simple joy of a holy Icelandic warrior from the middle ages to your home today! A fun clean fight through hell, facing Satan himself as you have never seen him before.
Churilla's creature/demon designs are always interesting and unexpected, while Hester's dialog is entertaining creating an atmosphere where you are sucked into the old world of the Anchor's past which is revealed as he consumes the demon hearts of his vanquished foes.
The art is a little cartoony, but then again you are looking at comic books here. So I guess you can't complain too much. Rating: ****
And Chris, from Missouri wrote his first TFAW product review on Axe Cop Volume 1 TPB.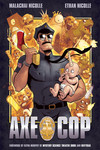 Here's what he had to say:
Such an ingenious idea for a comic: consult your 5 year old brother for ideas, and just run with it. This book is amazing. I can't stop laughing. The stories are crazy and I love the artwork that depicts the world of Axe Cop.
We want to thank all our customers for their product reviews last month. Good luck to you all for next month's contest. Keep your reviews coming, you could be next month's winner! As always, we're choosing our product reviews carefully. Please don't submit duplicate reviews or submissions from other merchant websites. You don't have to like the product to snag a winning review, so feel free to rant or gush.
So submit your reviews and help your fellow collectors, and us, sort out the "HOT" from the "NOT"! Who knows, you may be one of next month's winners.
HOW TO SUBMIT A PRODUCT REVIEW:
It's simple! Just visit any product page and look for this:
Click on it and our product review form will appear in a popup. Just fill out the pertinent information and submit your review, and you're done! We'll take a look at your review and get it up on the product page soon thereafter!
There's also a really easy way for you to call up everything you've ever ordered from us and review it. Simply log in to your account and go into the Order History Section. Next to each item, you'll see a "Review it!" link.
Questions? Comments? Let us know below!
Please follow and like us: