The entire creative team behind B.P.R.D. was on hand (perhaps for the first time ever) to answer fan questions and make an announcement on which creator will be leaving the series. It was interesting to hear how collaborative the process is between Mignola, Arcudi, Davis, Stewart, and Allie.
Watch the video below! WARNING: SOME ADULT LANGUAGE, MAY NOT BE SUITABLE FOR VIEWERS UNDER 18.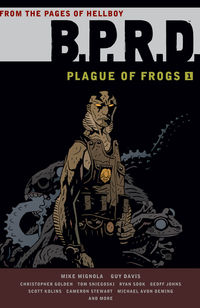 SEE COVERAGE OF EMERALD CITY 2011

SUBSCRIBE TO OUR YOUTUBE CHANNEL
Excited to hear about the goings-on behind your favorite comic book series? Sad to hear who's leaving? We sure are. We welcome your comments below.
Please follow and like us: