Sorry this one's so late folks! ECCC threw off our normal time line for picking the winners of our Product Review Contest. We're sending out $25 TFAW gift certificates to this month's winners: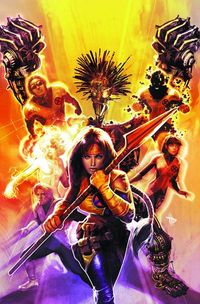 Alan from Washington DC reviewed New Mutants #15. Here's what he had to say:
Wasn't quite sure I'd get into this story, but the whole series by Zeb Wells has come full circle. I'm so glad I decided to continue reading the series!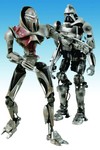 Travis from Hillsboro, OR did a pretty cool write-up on the BSG Daybreak Cylon Action Figure Two-pack:
These figures are very nice and detailed. The pistons in the new Centurion are even rigged up, so if you move its feet the pistons move, too.
The new Centurion comes with different hands and gauntlets so you can have open/closed hands or guns extended/retracted on each arm. The hands aren't too hard to swap out, but the gauntlets are really hard to snap on.
The old Centurion is even more detailed and comes with a rifle. It's a cool figure, but the rifle doesn't sit well in its hand and it's hard to stand up without making it look sort of like a hunchback.
In both cases, certain joints are slightly loose so the arms won't quite stay posed. Regardless, I give a reasonably high rating because they are well detailed and pretty cool looking.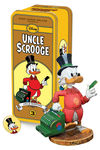 Last, but not least, there's Brent from the UK. His review of the Classic Uncle Scrooge Series 2 Character #3: Uncle Scrooge "Cash N' Carry" Statue was a quick little review that caught our eye. Here's what he had to say:
For an old Carl Barks fan, these little statues are the business and certainly do the old duck man's memory due reverence. (Probably going to be damned collectible too!!!)
Collectible indeed, Brent. That figure sold out in record time!
We want to thank all our customers for their product reviews last month. Good luck to you all for next month's contest. Get those reviews in, you just may be next month's winner! As always, we're choosing our product reviews carefully. Please don't submit duplicate reviews or submissions from other merchant websites. You don't have to like the product to snag a winning review, so feel free to rant or gush.
So submit your reviews and help your fellow collectors, and us, sort out the "HOT" from the "NOT"! Who knows, you may be one of next month's winners.
HOW TO SUBMIT A PRODUCT REVIEW:
It's simple! Just visit any product page and look for this:
Click on it and our product review form will appear in a popup. Just fill out the pertinent information and submit your review, and you're done! We'll take a look at your review and get it up on the product page soon thereafter!
There's also a really easy way for you to call up everything you've ever ordered from us and review it. Simply log in to your account and go into the Order History Section. Next to each item, you'll see a "Review it!" link.
Questions? Comments? Let us know below!
Please follow and like us: