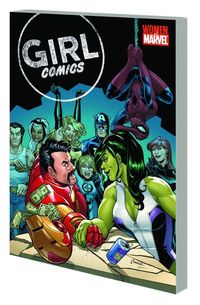 Drink & Draw Like a Lady returns to Portland for a second year Friday, April 15 at the Hollywood Things From Another World TFAW at 4133 NE Sandy Blvd., Portland, OR from 8:00 p.m. to midnight.
This is a very special women-only event! All ladies–whether they create comics, love comics, or just want to learn more about them–are invited to take part in some female positivity, as well as complimentary hors de'oeurves, beer, and wine (with valid I.D.).
Founded in 2009 by Hope Larson as a pre-event for MoCCA (a fundraiser for the Museum of Comic and Cartoon Art) and organized this year by Lucy Knisley, Drink & Draw Like a Lady is an excellent opportunity for women to sketch, socialize with the local comics community, and network. Do you have minicomics and business cards to share? Bring 'em! Are you new to comics and want to get the perspective of other females? This is the perfect event for you.
Periscope Studio artists Cat Farris and Natalie "Tally" Nourigat are spearheading the West Coast edition this year. "There are so many incredible female creators, editors, and fans of comics in Portland," said Farris. "It's the perfect place for an event like this–we were really happy about the energy it generated last year."
"I grew up reading comics in the '80s and '90s," said TFAW Marketing Manager Elisabeth Forsythe, "but there wasn't really a female support system for me back then. I'm so happy there are so many women in comics today, and that TFAW can host an event of this stature."
Come on down April 15 and get to know the women of comics! RSVP at the Facebook event. The Hollywood Things From Another World is conveniently located near TriMet's Hollywood Transit Center: plan your trip online. Additional questions? Email Cat Farris.
Please follow and like us: