Dark Horse Presents, the landmark comics anthology series that launched Dark Horse Comics, returns April 20, 2011 with issue #1 (or #158, as DH Founder and President Mike Richardson points out in the video below).
In honor of its release, Richardson headlined the Dark Horse Presents Panel at Stumptown Comics Fest 2011, featuring creators Eric Powell, Carla Speed McNeil, David Chelsea, and Michael T. Gilbert. See it all below!
Live in the Portland area? You can celebrate DHP at our Return of Dark Horse Presents Launch Party April 20 from 7 to 10 p.m. at the Hollywood Things From Another World. Meet Mike Richardson, Randy Stradley, David Chelsea, Paul Gulacy, Michael T. Gilbert, and more, and enjoy free beer from Columbia River Brewing Company (with valid ID) and free pizza from Sizzle Pie.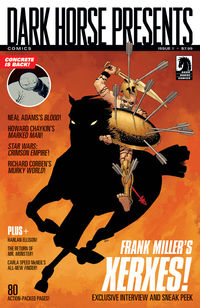 RSVP TO OUR DARK HORSE PRESENTS LAUNCH PARTY FACEBOOK EVENT

SEE COVERAGE OF STUMPTOWN COMICS FEST 2011

SUBSCRIBE TO OUR YOUTUBE CHANNEL
Are you excited for Dark Horse Presents? Post your comments below!
Please follow and like us: