Axe Cop is an unlikely–yet completely amazing and hilarious–comic that has taken the interwebs and comic shops by storm. Written by six-year-old Malachai Nicolle and illustrated by his 30-year-old brother, Ethan Nicolle, it's a fast and furious trip through the unlimited imagination of a little boy–shaped and supercharged by the wry perspective and energetic art of a true comics lover.
Ethan Nicolle and Editor Shawna Gore talked about the creative process between the brothers and what's coming next (Anyone want a licensed Axe Cop Halloween costume? Of course you do!) at this year's Stumptown Comics Fest, and we got it on video, below. Enjoy!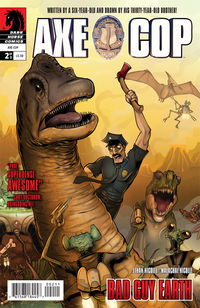 BROWSE AXE COP COMICS AND GRAPHIC NOVELS

SEE COVERAGE OF STUMPTOWN COMICS FEST 2011

SUBSCRIBE TO OUR YOUTUBE CHANNEL
Are you a dedicated Axe Cop fan, or are you still wondering what all the fuss is about? Post your comments below!
Please follow and like us: