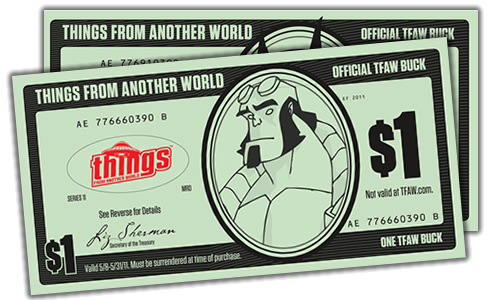 This Saturday, May 7, not only will you get free comics (while supplies last), meet awesome creators, and save 60% on sale items, but you'll be able to earn our brand-new TFAW Bucks on that day ONLY.
How can you earn TFAW Bucks? You'll get a $5 TFAW Buck with your initial purchase on Free Comic Book Day in Portland, Beaverton, or Milwaukie, and then you'll earn another $1 TFAW Buck for every $10 you spend!
How can you redeem TFAW Bucks? Bring them back to our Oregon stores between May 8 and 31 and match them with your own money to save. Got $8 in TFAW Bucks? Add $8 of your own to pick up that graphic novel you've had your eye on, or a clutch of new comics.
But wait! There's more! Make sure to hold onto your receipt from Free Comic Book Day–it's your VIP ticket to our 60% off sale (with all-new product NOT featured in our FCBD sale) in our Oregon stores May 21. Doors open at 9 am to receipt holders ONLY–that's two hours early! Not only will you enjoy first crack at our sale, but you'll get free coffee and donuts, too.

GET OUR PORTLAND FREE COMIC BOOK DAY SCHEDULE
Are you getting pumped for Free Comic Book Day? Will you try to collect them all? Post your comments below!
Please follow and like us: