We want to thank everyone who contributed a Product Review to our site in April–you did a great job! Of course, that made our job more difficult–picking three winners for our April Product Review Contest. There was some stiff competition, but we're sending out $25 TFAW gift certificates to the following winners: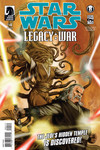 Shawn from Ohio reviewed Star Wars: Legacy – War #4.
Legacy War continues to demonstrate why it is the best Star Wars title out right now with the amazing art, colors and story. We finally get to see how a Skywalker goes out with honor, power and one with the Force!

Luke from Oregon gave us his critical account of Spider-Man Reign TPB:
I feel bad giving this book a low rating. It really isn't a horrible book. It just didn't engage me like I had hoped. The emotional impact of a broken down, tired, worn out aged Spiderman and compatriots should have been higher in my opinion, but in the end it came across as mostly contrived. The biggest emotional moment for me was a Sandman moment in the final act of the book. Overall, it was a new twist on a character that I haven't read in years. But at the end of it all, it wasn't really a memorable book.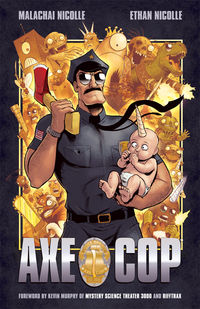 Finally, Nathaniel from Michigan reviewed Axe Cop Volume 1 TPB. Here's what he had to say:
I couldn't be any happier with the dark slap-stick hurmor of Axe Cop. I purchased it on a whim and couldn't be any more entertained. The commentaries for the Q and A give a lot of insite on how the Nicolle brothers work hand in hand to produce such a unique comic with endless possibilities. A must read.
Thanks again for sharing all of your insights and opinions with us–and your fellow shoppers! Interested in participating? Do us a favor and please don't submit duplicate reviews or submissions from other merchant websites. You don't have to like the product to snag a winning review, so feel free to rant or gush.
So submit your reviews and help your fellow collectors, and us, sort out the "HOT" from the "NOT"! Who knows, you may be one of next month's winners.
HOW TO SUBMIT A PRODUCT REVIEW:
It's simple! Just visit any product page and look for this:
Click on it and our product review form will appear in a popup. Just fill out the pertinent information and submit your review, and you're done! We'll take a look at your review and get it up on the product page soon thereafter!
There's also a really easy way for you to call up everything you've ever ordered from us and review it. Simply log in to your account and go into the Order History Section. Next to each item, you'll see a "Review it!" link.
Questions? Comments? Let us know below!
Please follow and like us: