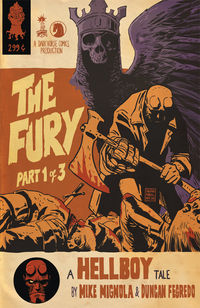 We can say without hyperbole that the upcoming three-issue Hellboy: The Fury story arc is one you do not want to miss. If you usually wait to pick up the trade paperbacks, don't sit this one out!
We won't spoil anything for you, but you can bet that Mike Mignola, Duncan Fegredo, and Dave Stewart have something special planned for the final arc of their massive saga that began back in 2007 with Darkness Calls. War ensues between the forces of good and evil as Hellboy finally confronts the Queen of Blood one on one, setting the stage for a new chapter in Hellboy's life!
To be prepared for what is to come, we've got a little homework for longtime fans and new readers:
Re-read or purchase Darkness Calls, The Wild Hunt, and The Storm before the end of May.
Pre-order all three issues of Hellboy: The Fury.
(Also works if you had a "Hellboy" Series Subscription set up on 4/27/11 when subscriptions locked for the first issue.)
Avoid online reviews or spoilers when they hit.
Read each of The Fury issues once we send 'em your way.
We can't wait to see what Mignola and crew have in store, and we know you'll dig it too. June 1st can't come soon enough!

ORDER HELLBOY: THE FURY #1 TODAY!



ORDER YOUR HELLBOY HOMEWORK BOOKS
What do you think is going to happen in The Fury? Have a theory? Let us know below!
Please follow and like us: