We were able to get into Ballroom 20 in time to watch Firefly and Serenity star Morena Baccarin introduce her new Showtime series, Homeland. In it, she plays the wife of a man who was a POW in the Middle East who comes home after eight years . . . but has he been turned by the enemy? Watch the video below!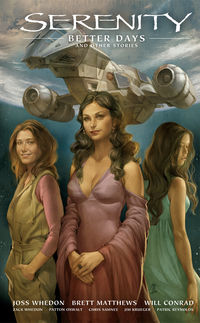 If you're at Comic-Con, make sure to visit us at booth #5625 to get 50% off a raft of incredible graphic novels, plus save big on toys, statues, and more! Plus, today is buy three graphic novels at half price, get one free!

SEE SERENITY COMICS & PRODUCTS

SEE COVERAGE OF SAN DIEGO COMIC-CON 2011

SUBSCRIBE TO OUR YOUTUBE CHANNEL
What do you want to see next? Post your comments below!
Please follow and like us: