The stars of SyFy's hit Warehouse 13 television series played to a packed house at this year's San Diego Comic-Con in the illustrious Ballroom 20. If you weren't patient enough to stand in line for hours to see the panel, don't worry. We've got you covered. Did you know that there's a Warehouse 13 comic book series on the horizon? Check it out after the jump.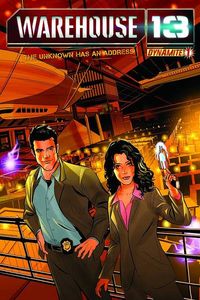 SEE WAREHOUSE 13 COMICS AT TFAW.COM

SEE COVERAGE OF SAN DIEGO COMIC-CON 2011

SUBSCRIBE TO OUR YOUTUBE CHANNEL
What's your favorite Warehouse 13 Artifact? If you were to create an Artifact, what would it be? Let us know below.
Please follow and like us: