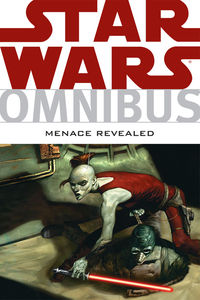 I've gotten a lot of friends who've asked me for recommendations for comics they should read. Usually I go on a little fact-finding mission and pair them up with a book I think they'll connect with. Lately though, I've been turning people on to omnibuses (or omnibusen, if you're so inclined).
Why? Because they're a great value and you get a lot of bang for your buck. Think about it: a $2.99 comic clocks in at 32 pages, and if my wizard-like math skills haven't failed me, that's about 10¢ a page. Depending on your reading abilities, you could be done with that issue pretty darn quick, only to return to your mundane existence 10 to 20 minutes later.
That's where omnibuses come in to save the day. Clocking in at 350-530+ pages each–most are $25-$60–they're well worth the price of admission. They're perfect for me because I'm impatient. Don't get me wrong, I love monthlies. They do a great job at giving you exactly what you need and keep you coming back month after month (as long as the art and writing are there), but they always leave me wanting.
There's nothing quite like turning off your cell phone and curling up with a good omnibus. The closest comparison I have would be to equate it with a movie marathon. Ever watch the Star Wars, Indiana Jones, or Lord of the Rings trilogies in one sitting? That's what I'm talking about. You get to escape to another world for a good long time, leaving all of your cares and concerns behind.
Not knowing you, [INSERT YOUR NAME HERE], I'd have a hard time recommending an omnibus for you, but here are a few choice ones I've really enjoyed:
What's your favorite omnibus and why? Post your comment below and you might win one from my bookshelf.
Please follow and like us: