We want to know what you think about the products we carry. Did the newest issue of Incredible Hulks meet your expectations? Did you enjoy that Star Wars TPB that you picked up last month? Your reviews help others decide if they should check out a product, or if they should pass it up and opt for something else.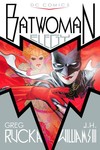 As part of our monthly Product Review Contest, we've picked three reviews and are awarding $25 gift certificates to the people who posted them.
Lillian from Woodinville, WA reviewed a quite a few products last month. Her review of Batwoman: Elegy TPB really caught our eye:
I've heard nothing but fantastic things for this book. The book lives up to the praise for the most part. I am a fan of Rucka's writing. He always paces his stories well and he has a masterly control of all his story elements for powerful and effective storytelling. His characters are believable, despite the superhero drama, and his storytelling is as fastidious as it is engaging…
…Every time you look at it, you see something new. The re-readability of this book is amazing. The first time through it, however, the sheer amount of details story-wise and art-wise is almost overwhelming. It is definitely a book to take seriously and enjoy like a fine glass a wine to take in all its greatness. Do not guzzle this book. You'll miss out on so much of its richness.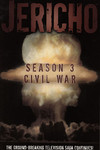 Gwen's review of the Jericho Season 3 TPB stood out among a sea of reviews last month:
I am not a comic or graphic novel fan, but the Jericho novel is different. This book is written by the shows writers and producers and is the official continuation of the series. It starts off with Jake and Hawkins in Texas with the bomb. We get to meet a new Green family member, get the backstory on John Smith, the mastermind of the Sept attacks and see the start of the Civil War. I can't wait to see what happens next!
Finally, Brian from Murrieta, CA shared his thoughts about the sold-out Buffy the Vampire Slayer: Throne of the Slayer Statue:
This is an amazing statue. It looks so much like SMG. The posture and attitude displayed are so perfectly shown. I wanted it for a year and finally decided to splurge and get it. I am very pleased to add it to my collection. Faith next.
Though we're sold out of the Buffy statue, we're now taking pre-orders for this amazing Spike Statue. Just so you know. 😉
Thanks again to everyone who shared their thoughts via a product review last month! If you're submitting product reviews, please don't submit duplicate reviews or submissions from other merchant websites. You don't have to like the product to snag a winning review, so feel free to rant or gush.
So submit your reviews and help your fellow collectors, and us, sort out the "HOT" from the "NOT"! Who knows, you may be one of next month's winners.
HOW TO SUBMIT A PRODUCT REVIEW:
It's simple! Just visit any product page and look for this:
Click on it and our product review form will appear in a popup. Just fill out the pertinent information and submit your review, and you're done! We'll take a look at your review and get it up on the product page soon thereafter!
There's also a really easy way for you to call up everything you've ever ordered from us and review it. Simply log in to your account and go into the Order History Section. Next to each item, you'll see a "Review it!" link.
Questions? Comments? Let us know below!
Please follow and like us: