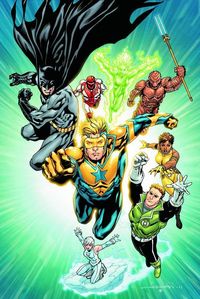 We are delighted to announce a release party for Justice League International #1–one of the highly anticipated series from DC Comics' The New 52 relaunch–with renowned artist Aaron Lopresti on Wednesday, September 7 at our Beaverton store, 4390 SW Lloyd Ave. Beaverton, OR 97005, from 7:00 to 10:00 pm. Join us to enjoy complimentary food and beer (with valid ID) and get the chance to meet and ask questions of one of DC's legendary artists.
DC Comics electrified the comics industry in May, when the company announced it would relaunch its entire superhero universe–52 titles in all–with new #1 issues. In Justice League International #1, Batman, Booster Gold, Guy Gardner, August General in Iron, Fire, Ice, Vixen, and Rocket Red are charged with promoting unity and trust–but can they reach that goal without killing each other first?
During his 18-year career, artist Aaron Lopresti has been in demand for both cover and interior work, due to his lush, dynamic style. His art has graced the pages of Wonder Woman, Uncanny X-Men, R.E.B.E.L.S., Justice League: Generation Lost, and many more.
This will be TFAW's first after-hours signing at their Beaverton store, which is just a short walk from TriMet's Beaverton Central MAX Station. Plan your trip at TriMet.org!
Justice League International #1, as well as several other series from The New 52, will be available for purchase. Don't miss this stellar event September 7, which celebrates one of the most-talked-about events in comics! Plus, make sure to ask how you can save 40% on all of DC's The New 52 #2 issues when you pre-order them all by 9/10–just $95.69.

RSVP FOR OUR AARON LOPRESTI SIGNING ON FACEBOOK

SEE DC COMICS' THE NEW 52

SEE ALL AARON LOPRESTI COMICS AND GRAPHIC NOVELS
Please follow and like us: