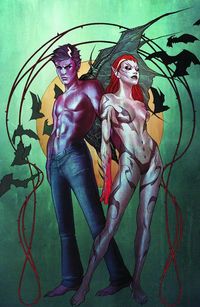 If you're a fan of horror–real horror, the kind that taps into your primal fears and keeps you up at night–you should be reading Joshua Hale Fialkov's comics. His original graphic novels, Tumor and Echoes, deal in scenarios that tip dangerously into everyday occurrences: what if a tumor can destroy everything you are? What if the seeds of your parents' inner monsters are destined to bubble through your own skin, hurting your loved ones?
So we were very pleased when we noticed Fialkov is helming one DC's The New 52 horror books, I, Vampire, updating the original House of Mystery series by J.M. DeMatteis. He took a break from writing to answer our questions, below:
TFAW.com: First off, I got a chance to see an advance copy of the Echoes hardcover–which turned out really nicely. How do you like it?
Joshua Hale Fialkov: I'm immensely proud of it. I'm devoted to the idea that if we want to beat the pirates and the downloaders, and to convert the new digital readers, we have to create true objects d'arte out of our books. And do it for a good price. I mean, sure, as comic fans we're crazy enough to buy $150 oversized hardcovers, but, most folk won't drop more than a twenty on a comic, so, it's up to us to provide them something that screams value and quality. Both with Tumor and now with Echoes I think I've done that with my books.
TFAW.com: Reading Echoes again was also fantastic–it's a book that changes a little each time you read it. How did you pull that off?
JHF: A lot of the credit goes to my amazing team. Rahsan [Ekedal, the artist] is just a talent beyond words, and there's so much depth and detail in his work that you miss when you're being hurtled along by it in the first read-through. I'm actually looking forward to the day when we can do an oversized version just so people can see the art at it's original size the way Rahsan created it. It's truly breathtaking.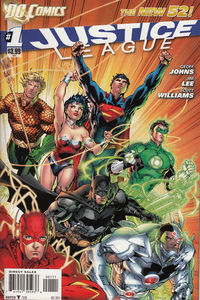 TFAW.com: When did you hear about The New 52? How did you get involved?
JHF: I had a meeting with editor Matt Idelson at Emerald City Comic Con this year, and that was about launching I, Vampire. I don't know if I knew they were relaunching everything, but, the idea was definitely that there was a huge amount of outreach going on, and the goal of the company was to find new voices who have something to say about these characters and this world.
I grew up reading tons of horror comics, especially the House of Mystery and House of Secrets books (plus, I devoured Creepy and Eerie and all of those weird Charlton series, too.) So, this was just a great fit. I'm genuinely thrilled to get a chance to show what I can do to a much bigger audience.
TFAW.com: Where did the idea from I, Vampire come from? Can you introduce it to us?
JHF: From the brain of J.M. DeMatteis, really. I'm just taking what he did and contemporarizing it a tiny bit. But, really, the idea behind the book is already startlingly modern. Andrew Bennett was turned into a vampire about 400+ years ago. His first act was to turn his one true love, Mary into a vampire too. So, he retained his morality and his sense of humanity . . . she became evil incarnate.
Now, after years and years of fighting, Andrew and Mary have made peace, the vampires have gone into hiding, and everything is good in the world. Except . . . Mary is sick of being oppressed. She sees herself as one of the great civil rights leaders. She wants to liberate and free her oppressed people. Which is a great thing . . . except that it involves eating us! So, that's really where our story starts, with Mary leading a revolution, and Andrew stuck in the middle because he loves her so much, and yet, has sworn to protect humanity.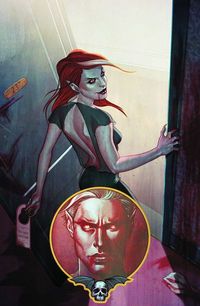 TFAW.com: Why do you think this series was included in The New 52? Where does it fit in the DCU?
JHF: It's firmly entrenched in the DCU, definitely. You're going to see the ramifications of the book show up elsewhere as time goes on. I'm buddies with a bunch of the other writers, and pretty much every conversation is me pitching their heroes fighting my vampires. And that's the thing, it's something that's been missing from the DCU. Having this great little horror line with Swamp Thing, Frankenstein, Demon Knights, and I, Vampire, brings back what was at one time a huge part of the DCU in the horror line.
TFAW.com: How do you feel about being included in this major reimagining of the DCU?
JHF: Couldn't be happier. Y'know, I remember Crisis, and I remember how afterwards, suddenly, I could read and understand DC comics. They became a huge passion for me, and I was thrilled to get in on the ground floor.
Now, comics are even more complicated and more difficult to follow, so having a clean start that still honors what came before is such a huge opportunity to bring fresh new readers into our world. That's been a driving force for my whole career: how do I help to ensure that this industry continues to exist for a long, long time?
I think DC has taken a risky but amazingly courageous path in trying to ensure the industry's future.
TFAW.com: There are a lot of vampire comics, TV shows, movies, and books these days–what sets I, Vampire apart?
JHF: I know this is sort of a cop-out answer, but, Andrea and I are the difference. This book is very much our vision, very much our voices. I could say that it's got this cool radical social agenda, or that it's a pure horror romance, but, really, like everything I do, this is a book about people. It's a book about two conflicting points of view, both who have validity, coming to a complete head.
TFAW.com: What's it like working with Andrea Sorrentino?
JHF: Great! Andrea's going to be a huge star, and I'm just glad I get to ride his coattails.
TFAW.com: If sales of I, Vampire on TFAW.com are any indication, this is going to be your biggest-selling book to date, which means this is going to be your first introduction to a lot of readers. Do you have anything you'd like to say to them?
JHF: If you like I, Vampire, then please, please, please, check out my independent work. I love both equally, but, there's a level of freedom to creator-owned work that you just can't have anywhere else. Those books are things I do for passion and the love, and I'd love for more people to experience them.
TFAW.com: With The Cleaners, Echoes, and now I, Vampire, you're carving quite a career for yourself in the horror genre. Is that the path you see yourself continuing?
JHF: I'd argue that Tumor and Elk's Run are both in the same genre as the rest, but, I'd say it's more in the Thriller/Suspense side of Horror, and honestly, that's the approach I'm taking with I, Vampire, too. I want it to be a romantic thriller more than anything else.
Look, I love monsters and monster stories, but, the reality is that what's really scary are the people next door. Texas Chainsaw Massacre is way scarier than Nightmare on Elm Street, for me, in other words, and that's where my writing has always gravitated. I've had a few folk describe what I do as Noir Horror, and I feel like that's probably as close as you can come to identifying what I do.
That being said, with Last of the Greats, from Image, I'm doing my version of a superhero story, which again is pretty horrific, overall, and, I've got a sci-fi comedy book over at Oni Press due out next year . . . I'm definitely starting to stretch beyond the boundaries of the Noir Horror thing I've been doing, but that'll always be my roots, I think.
TFAW.com: What elements of horror are you most attracted to?
JHF: Almost every book I do starts from one simple question. What's the worst thing that could happen? So, with Tumor it was "What if I lost the use of the one thing I depend on for both my livelihood and my identity?" Then you go to, well, nobody wants to read a book about a writer who's got a brain tumor, at least not in comic book form, so, what do we have? Who else needs their brain the way I do as a writer? Which led me to a private investigator.
With Echoes it was, what if every mistake and flaw I see in myself was passed on to my kid? With I, Vampire, it's what if the person you loved turns out to be the worst person in the history of time? It's all very personal, small stuff, that I think we all feel and worry about, taken to a sort of orchestral swell, storywise, but with that core driving it forward.
TFAW.com: How is I, Vampire different from your previous books?
JHF: In a lot of ways, it's not. There's definitely the more magical mystical side, which I don't explore a lot in my other work, and it's been such a huge blast to do on this, that I'm already working on some more stuff that leans that way. Probably the biggest difference is the canvas size. I've got an entire world to play with, and the joy of the DC Universe to play it all against. There's a lot of brilliant stuff being done by the various creators at DC and I'm made better by being in proximity to them, I think.
TFAW.com: Do you have a reunion in the works with Rahsan Ekedal, your partner in crime for Echoes and The Cleaners?
JHF: We have a couple, actually, we're doing a one shot for Top Cow's Pilot Season, called Test, and then we have a six-pager in Vertigo's upcoming Unexpected anthology. And, strange as it sounds, I had a crazy dream last night that looked like Rahsan drew it, so, maybe there's a new original graphic novels in our not-too-distant future.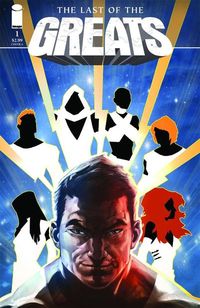 TFAW.com: What's up next for you?
JHF: Last of the Greats over at Image is taking up a huge chunk of my time right now, as well as Noel Tuazon and my follow up to Tumor, which should be also coming from Image later this year. I just finished a run on Superman/Batman with artists Adriana Melo and Tomas Giorello, that was a huge amount of fun. I'm hoping to get another crack at those guys very, very soon. You can follow along with all of that stuff at my Twitter, @joshfialkov or on my recently revamped blog, TheFialkov.com.
Our thanks to Joshua for giving us a peek inside his upcoming stories! We can't wait to read I, Vampire: you can pre-order issues #1 and #2 of I, Vampire right here at TFAW.com.

SEE ALL OF DC'S THE NEW 52 COMICS

BROWSE JOSHUA HALE FIALKOV COMICS & GRAPHIC NOVELS
Please follow and like us: