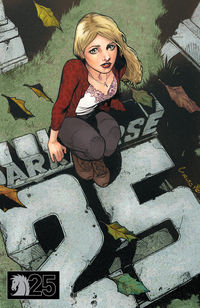 What: Buffy Season 9 Q&A and Release Party with Georges Jeanty and Scott Allie
Where: Hollywood TFAW: 4133 NE Sandy Blvd. Portland, OR 97214
When: Wednesday, September 14 from 7-10 pm.
The events of Buffy Season 8 rocked our girl to the core, but you can't keep a good Slayer down! Come to the our Portland TFAW store September 14 from 7-10 pm to celebrate the premiere of Buffy the Vampire Slayer Season 9 with an incredible Q&A and signing with series artist Georges Jeanty and editor Scott Allie. Plus, enjoy free beer from Columbia River Brewing Company and complimentary food!
Do you have questions about what's in store for Buffy Season 9 and Angel & Faith? This is the place to be! Plus, Dark Horse Comics is generously offering up swag bags when you purchase Buffy Season 9 #1 at the event (while supplies last) that include goodies usually only available at conventions, like their exclusive Buffy paper dolls!
The Q&A starts at 7 pm sharp, so get there early to ask your question and grab your swag bag. Remember, you must be 21+ and present a valid ID before we'll serve you beer.

SEE ALL BUFFY SEASON 8 AND 9 COMICS AND GRAPHIC NOVELS

RSVP TO OUR BUFFY SEASON 9 SIGNING AND Q&A ON FACEBOOK
Please follow and like us: