We Review Every #1 Issue of The New 52!
It's here! DC Comics' ambitious relaunch, The New 52, kicks off this week with Justice League #1, by Jim Lee and Geoff Johns. We review it below and tell you whether it's Box-Worthy (something you've gotta read each month), Fence-Worthy (a title to check in with from time to time), or NOT Worthy (not worthy of your money).
We'll be reviewing every #1 issue of The New 52 each week–MILD SPOILER ALERT! We'll avoid any big spoilers, but we will give out a few details as we go. So was Justice League #1 any good? Watch the review below, check out our new intro, and stay tuned for a special coupon at the end!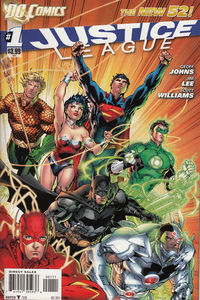 ORDER YOUR COPY OF JUSTICE LEAGUE #1

PRE-ORDER ALL 52 OF DC'S #2 ISSUES AT 40% OFF–JUST $95.69

SUBSCRIBE TO OUR YOUTUBE CHANNEL
Have you read Justice League #1 yet? What did you think? Post your comments below!
Please follow and like us: