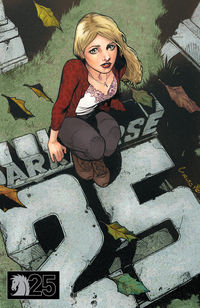 What: Buffy Season 9 Q&A/Release Party with Georges Jeanty & Scott Allie
Where: Hollywood TFAW: 4133 NE Sandy Blvd. Portland, OR 97214
When: Wednesday, September 14 from 7-10 pm.
Our Buffy Season 9 Premiere Party with artist Georges Jeanty and editor Scott Allie is right around the corner–come to the Hollywood TFAW in Portland Wednesday, September 14 from 7-10 pm for a Q&A and signing you'll never forget!
Georges Jeanty isn't just the acclaimed artist for Buffy Season 8 and 9–he's a huge fan of Buffy, too! Check out the interview he did with Aaron Duran of Geek in the City about his experiences working with Joss Whedon, which storylines he objected to in Season 8, and what he's looking forward to in Season 9.
Podcast: Play in new window | Download (Duration: 22:14 — 10.2MB)
You'll be able to get all of your burning questions answered–the Q&A starts at 7 pm sharp! Dark Horse Comics is giving away free Buffy swag bags with purchase of Buffy Season 9 #1 (while supplies last) containing exclusive goodies usually only available at conventions. Plus, enjoy free beer from Columbia River Brewing Company (with valid ID) and complimentary food! See you there!

SEE ALL BUFFY SEASON 8 AND 9 COMICS AND GRAPHIC NOVELS

RSVP TO OUR BUFFY SEASON 9 SIGNING AND Q&A ON FACEBOOK
Please follow and like us: