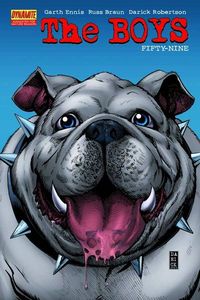 When Eisner Award-winning writer Garth Ennis debuted The Boys in 2006, he declared that the comic book series would "out-Preacher Preacher," his legendarily violent and profane epic with Steve Dillon.
Centering on a group of superpowered CIA agents who are tasked with keeping the world's "superheroes" (an utterly corrupt, lewd, and selfish bunch known as the Seven) in check, The Boys is hilarious, offensive, emotionally gut-wrenching, and . . . over, with issue #72. With issue #59 due out today, that gives us just over a year left with the boys of The Boys.
We had the fantastic opportunity to pepper Ennis with questions about the end of The Boys, as well as the limited series The Boys: Butcher, Baker, Candlestick Maker, as part of Dynamite Month. Read his responses below and check out our eight-page preview for The Boys #59!
WARNING: EXPLICIT CONTENT FOR MATURE READERS AFTER THE JUMP–18 AND OLDER ONLY!
TFAW.com: The philosophy for most mainstream superhero comics, like Spider-Man, is "With great power come great responsibility." With The Boys, it seems to be, "Absolute power corrupts absolutely." Do you agree?
Garth Ennis: Indeed. Butcher's precise take on that one can be found in #55.
TFAW.com: The Seven were literally superpowered from the womb. Was it nature or nurture that caused them to become so corrupt?
GE: You'll see plenty of that in the new storyline, beginning in #60–particularly regarding the Homelander, and another member of the team quite close to him.
TFAW.com: Do you think it's inevitable that people will become warped by power? What kind of guidance or consequences would it take to make them stay on the straight-and-narrow?
GE: They'd need to be pretty principled individuals to begin with, and they'd need to be operating in a system where private interests couldn't force compromise. Otherwise they can be as morally upstanding as they like, they won't achieve anything worth talking about. Don't have to look too far to see a few real-life examples there.
TFAW.com: You've delved into Butcher's past with Butcher Baker Candlestickmaker. Do you plan on doing anything like that for the Seven?
GE: Again, there'll be a lot of their history in #60-65.
TFAW.com: We know Butcher's back story, to some degree–what inspired you to do a miniseries? Will we finally get all the pieces to Becky's story?
GE: You will, short, sweet, and tragic though her story is. Butcher's pretty much the lynchpin of the entire book; if anyone deserved a miniseries for their origin, it was him.
TFAW.com: After Herogasm, Hughie has returned to The Boys with a new outlook–he wants to be second-in-command and included in the decision-making process. Can you talk a little about how he arrived here?
GE: What Hughie found out about himself in Highland Laddie, and about The Boys and their history in #52-55, was what informed his newfound assertiveness. How that works out for him you'll see starting next issue (#59).
TFAW.com: Will Butcher let anyone get that close to the inner workings of the organization? After all, it seems like he's doing his part to keep their war against the superheroes at a fever pitch–he wants it to continue.
GE: That's certainly how things look right now. You'll see how the war against the superheroes goes in #60-65; after that, Butcher will kick things up a notch for the second of the two last storylines, in #66-71.
TFAW.com: After leaving the Seven, Annie is in limbo–both as a superhero and in her relationship with Hughie. Where can she go? Is there a place for her in The Boys?
GE: Absolutely not, she's a supe. Where she goes you'll see in the upcoming storylines; Annie's getting better and better at standing on her own two feet. An interesting question is how long she'll be prepared to wait for Hughie.
TFAW.com: Queen Maeve has gone from a caricature to a tragic figure–especially with the latest revelations about her past that Hughie has discovered. Can you give us any hints as to where that is heading?
GE: Maeve might still have a shot at some kind of life. #63 should be an interesting issue for Maeve fans.
Little aside, something I only remembered on re-reading it: Annie and Maeve's first encounter (in #3) was actually based on the story of Marilyn Monroe meeting Bette Davis for the first time. Emphasis on "story"; I'm not sure if that one was ever confirmed.
TFAW.com: It looks like our Boys are finally going toe-to-toe with the Seven in The Boys #59. It also seems like the footage released of Jack was a setup. Will we find out who made the damning footage public?
GE: In that very issue, in fact.
TFAW.com: You've said in a past interview with Newsarama that you thought The Boys would end with #72. Is that still the plan?
GE: That it is. Finished #72 about six weeks back. Been missing them all ever since.
TFAW.com: Will these characters continue in other series?
GE: No.
TFAW.com: The Boys has had an interesting path–starting at Wildstorm before moving to Dynamite. What are the advantages of working with Dynamite?
GE: Total creative freedom, full ownership unhindered by contract clauses, one of the most competent teams I've ever worked with. Wildstorm were a damn good crew, but the corporate environment eventually did them in.
You can win a copy of The Boys #59 (which is, without spoiling anything, powerful and completely heartbreaking) as part of our Dynamite Twitter contest. It ends 10/9, so get cracking!
Need to catch up on The Boys? Check out our selection of graphic novels. Plus, pre-order The Boys comics now to make sure you get every last drop of this fantastic series.

BROWSE THE BOYS COMICS AND GRAPHIC NOVELS

VISIT OUR DYNAMITE MONTH PAGE
Are you a fan of Garth Ennis's The Boys? What do you want him to tackle next? Post your comments below!
Please follow and like us: